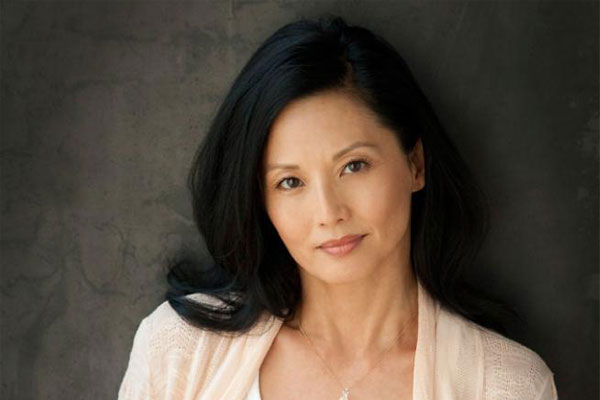 "No one has a direct pathway or a direct chart as to how to do this. We're all in this haphazardly together." – Tamlyn Tomita
Taking a look at her long resume, you would never know that Tamlyn Tomita had no desire to become an actress. Before her breakthrough role in the 1986 Karate Kid sequel, she hadn't acted a day in her life. But after that experience, she she became "interested in telling stories that were important," she said. Stories that "were pertinent to who I am as a woman, as an Asian American woman."
Now over 30 years later (and appearing in The Joy Luck Club, Santa Barbara, General Hospital along with recurring roles in True Blood and Teen Wolf), she's starring alongside Freddie Highmore (Bates Motel) on ABC's The Good Doctor. She plays Allegra Aoki, the chairman and Vice President of the foundation that controls St. Bonaventure Hospital.
Tomita talks about her long career, working on The Good Doctor, the show's cast and how bad auditions are a "lesson learned."
It must be nice to be on this big hit show.
Tamlyn Tomita: I am in shock and awe. And it's a real testament to the writing and the cast, and the creative energy behind NBC and Sony Studios put afresh a wonderful show. It's all the national elements and the chemistry that makes it work. I am out of words. It's amazing, it's amazing. I'm just so humbled.
Can you tell me about your character and the show itself? I saw the pilot and thought it was great.
Tamlyn Tomita: This is David Shore and his whole team. He's really taken this story out of South Korea and molded it and adjusted it for American audiences, and it's really taken to life.
It's about an autistic savant doctor, Dr. Shaun Murphy, played by the brilliant Freddie Highmore, and about the hospital and how he manages to be a heart surgeon. I'm Allegra Aoki, she's the administrator, and she is the VP and a chairman of the hospital.
You guys film in Vancouver. How do you like being away from home?
Tamlyn Tomita: Well, Vancouver traditionally is known as Hollywood North.  It's been like a home away from home because there's a thriving film and television industry up there, and we get to see so many Los Angeles as well as New York based actors guest starring or as regulars up there. It really does feel like Los Angeles with less mountains, and a little colder.
You have such a great, diverse cast. Freddie Highmore Bill Harper, Richard Schiff.
Tamlyn Tomita: Yes, and Antonia Thomas. She is starring in Lovesick, which is a BBC show. She's known for Misfits, which is another BBC show, and the young Chuku Modu. We've got the lovely Jasika Nicole and then Nicholas Gonzalez, he's the heartthrob of the show. Apparently he has been getting a lot of the notices. It's between the eye candy of Nicholas Gonzalez and Hill Harper. The heart of the show is Freddie Highmore and Richard Schiff. We're really pretty stacked as a team.
Even with this show, you're extremely busy. You're either about to The Man in the High Castle, you've already shot it?
Tamlyn Tomita: We've already shot Man in the High Castle. It ended shooting in December right before the holiday. It should start streaming this month actually, pretty soon.
But yeah, I was shooting that consecutively and there were some days where I didn't know exactly who I was, but it would be one right after the other.
Are you a strike while the irons are hot kind of person? Because I assume you could have just taken some time off and vacation or hung out. Was this just a great, perfect role for you?
Tamlyn Tomita: It was. It was a really great role. I'm working with a friend of mine who we've worked together, Cary Tagawa, who plays trade minister Tatomi. He's one of the central figures of the show. He and I have worked together on and off for 20 years. He is the one who expressed this desire to work with me again. So Man in the High Castle said, "Are you interested?" And I go, "Yes, of course, I'd love to work with Cary Tagawa again". We are on another journey together. After many years we're taking this story on the road.
You've been acting for ages now. But I read that you didn't really want to be an actress.
Tamlyn Tomita: Well, I was a student at UCLA as a history major, and I was set on becoming a history teacher, specifically for junior high school or middle school ages because I remember that being a particularly important time in my life. It usually is time where young children start to become young adults and to be influential in having them learn history, meaning the stories that have been told. I thought it was important to lay the foundation of these portents of history. That's what I wanted to do. I think acting and telling stories in this business is an extension of history. We really do know a lot of what's happened in our world through film, through television, through those stories that we are able to enact via the film and television industry.
That's how I started getting interested in history, watching movies and TV, absolutely.
Tamlyn Tomita: Right, that's right, exactly. It's just to further that interest and saying, "This is what you saw what happened on such and such a show, but this is what really happened". It deepens a lot of the interest and it deepens a lot of the culture. It deepens a lot of the sense of where we belong and who we are as a people, as a nation, as a world.
Your first role was in Karate Kid II. How did you actually get that part if you weren't looking to be an actress?
Tamlyn Tomita: I was involved in a Japanese American festival here in Los Angeles, and at the time the casting director, Carol Jones, for Karate Kid II, she ask at the festival, "Can you send all of your Japanese American girls to audition for a role in the Karate Kid Two that takes place in Okinawa, Japan.?" I was a part of a group of girls, and I managed to jump through all the hoops. I think it helped that I was born in Okinawa. My mother's family is from Okinawa. That might have helped a little bit, but I have no idea. Only God knows. Here I am today, 32 years later.
So, this brings me to another question: how have you kept your career going so long when others who started out at the same time, or even later than you, have faded away?
Tamlyn Tomita: I don't know, and I have no idea. I have no idea in terms of people's aspirations. I certainly had no aspiration to become a movie star. I just was interested in telling stories that were important, that were pertinent to who I am as a woman, as an Asian American woman. It started to transmogrify, it started to change and shift into telling stories that are more universal. It doesn't necessitate that I am a woman character or I am an Asian American character. It just means stories that touch people's hearts or opens people's mind that were more interesting.
I've been able to collaborate and participate in stories that may not be typical of an Asian American woman, but it just furthers the idea of what human characters can look like, and if it happens to be an Asian American woman so be it. I think it furthers the development of who we are as individuals, and that we really can't pigeonhole a community or a group of people into saying these people are all alike, and we can't start compartmentalizing. I think that's when we start getting in trouble, and I think that's the power of film and TV is that we get to see the person, we can feel for the person, we get to empathize with the person and further sympathize and become a little bit more compassionate torwards each other. I think that's the ultimate goal in telling stories.
Even though you have so many credits on your resume, do you still get a tad bit nervous when you walk onto a set of a new series, like as a guest star or something?
Tamlyn Tomita: Absolutely. Oh my god, I feel not worthy. No, really, because I still do second guess myself and go, "Am I good enough? Am I doing this right or am I doing this correctly? Am I serving the story well? Because it really is the constant streams of interchangeable players.
That's one thing that calms my nervousness, that I seek people whom I have worked with or whom I have watched or who I know is friends with a friend that I've worked with. It's to find that connection, but I've nervous as all get out when I walk onto a set because I still feel like I'm that young teenager who walked on the set of Karate Kid Two and said, "I have no idea what I'm doing." And I am entrusting myself to my actors. I am entrusting myself to the director and to the writers to say, "Welcome on board. This is where we're going. I am as nervous as you."
That's what really calms me down, when I hear people say, "I'm nervous as all get out too". No one has a direct pathway or a direct chart as to how to do this. We're all in this haphazardly together. We're just trying to do our best. As long as we have teamwork and team players I think we're going to do well.
What's been the worst audition you've ever been on? Where you're like, "Oh man, what just happened in there?"
Tamlyn Tomita: I think that's what usually happens. As an actor, what I try to do is I try to completely transform myself internally. This is an old school lesson I learned from my mentors way back when: try to walk into the room as the character. Because a lot of these writers, directors, and producers don't have a lot of time to get to know you as the actor, as the person, and then see you turn on the character. They'd just rather see you turn on the character and walk in. It's a little bit more efficient for me.
But sometimes I made such a bad mistake, I totally dressed up glamorously when they wanted a housewifey-looking girl. I came in with high heels and full on make-up. I go, "Oh my god, what did I do?" Because I didn't think it out. But my mother happened to be very well kept together, so that was in my mind, what a housewife would be or a stay-at-home mom or a homemaker would be. It's not delineated out sometimes in scripts, you know, "She's a housewife". But then what housewives look like a well together put person? And I go, "But that's what my mom's like". It really changes the picture for some of them.
But then I go in as committed as possible and then when I leave the room after I see the reaction that's when I go, "Oh, I think they wanted a really stereotypical person".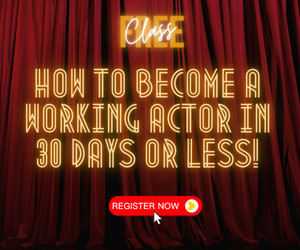 I've made some harsh mistakes, but it's all learning, and they're funny stories to tell after I come home and crash into the couch with my little pint of ice cream and say, "Oh, I should've done this". But then it's a lesson learned, it's a lesson learned.
But you get to end up with ice cream, so there you go.
Tamlyn Tomita: Exactly, exactly. But, it was a mistake and that mistake doesn't identify me, it doesn't mark me forever. I just have to humble myself and say, "What should I have learned right there?" It causes me to take a pause, pause myself and say, "Hm, I could've done that a little better. Okay, next time."
The Good Doctor airs on Mondays at 10pm on ABC