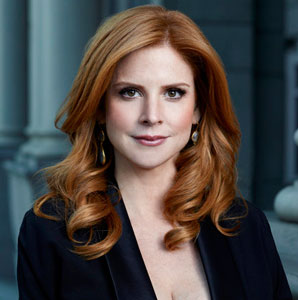 Suits wouldn't be the show that it is without Sarah Rafferty. Rafferty plays Donna Paulsen, the Executive Secretary and probably smartest person in the Pearson Hardman law firm, on the hit USA show.
A graduate of Yale Drama School, she also studied in London and said that she still uses what she learned overseas, mainly, the "courage" of making a strong choice. "I think whether you're working on the stage or in film or on TV, you know, that's what is required to kind of make things compelling. And it's risky too because you can get it wrong, you know. So it takes a certain amount of courage," she said.
In this interview, she talks about working on Suits, her co-star Gabriel Macht, studying in London and her advice to actors.
Suits airs on Thursdays at 10/9c on USA
Is there anything you brought to Donna that wasn't originally scripted for her?
Sarah Rafferty: Oh my gosh, all her brains. That's all me. No, I do not share that quality with Donna actually. You know, I think we're lucky on this show. We do have some fun ad libbing every now and again. We do what's written on the page and then sometimes we improv a little bit. So, you know, I think there is a little bit of that happening.
And in my real life Gabriel and I have been friends for almost 20 years now so I think we naturally brought that kind of comfortable relationship to Harvey and Donna. I think that just kind of naturally bled into it because of the circumstances of our own life.
You and your castmates, for a significant amount of last season there was a lot of very emotional, very hard hitting moments. For you as an actress, how hard is it to put that down during hiatus, walk away from it and then pick it back up again?
Sarah Rafferty: I think – well I think that there are a number of things that make it easy to have you return to it and I keep going back to the writing but the writing is just so – has such clarity for these characters and it's so true to who these people are and has such a strong voice that you can kind of get right back into it.
I'd also like to say, and it sounds superficial, but putting on those clothes really brings you back. Like you put on those high heels, you walk like Donna, you know. You know, you're almost the same height as Jessica so you're seeing her in a different, you know, have a different energy.
So I think there are – it's – I think you can get right back into it when you're on set and I'm sure that after, you know, some rest we'll all be very excited to go back to season 3 which we've been so lucky to be picked up for which is great.
You guys film in Toronto. What do you like about working and acting in that city?
Sarah Rafferty: I like Canadians. Who doesn't like Canadians? It's amazing, they're the friendliest people on earth. It's a great city. It's really – we really enjoy it. I have two kids so it's a great city for families. There's so much to take advantage of culturally but it also just has – it's a really comfortable city to live in and then you can also have a lot of fun when you go out as grownups. So who knows, it's great, it's really nice. And the – we're really lucky, you know, to have this – to have our Canadian crew. They're awesome.
What do you remember most about your experience studying theater abroad in London and Oxford during your year there that you still implement today?
Sarah Rafferty: That I still implement today, gosh, you know, I think what you learn studying acting is that you have to have the courage to just make a strong choice. And one thing that was really great about that year abroad, I can't tell you how much theater I went to see while I was in London and Oxford and, you know, I went to Stratford.
And just witnessing people making bold, deep choices. And I think whether you're working on the stage or in film or on TV, you know, that's what is required to kind of make things compelling. And it's risky too because you can get it wrong, you know. So it takes a certain amount of courage.
What would be the best advice you would tell your 16 year old self?
Sarah Rafferty: Oh God. Stop worrying. Stop worrying, just be present.
What are the biggest obstacles you have faced on the set of Suits?
Sarah Rafferty: Biggest obstacles, you know, it sounds sort of lame but sometimes it's really late and we're really tired and that can just be hard. It's just the nature of shooting something. We can be there at 4:00 in the morning trying to shoot something and, you know, you can be – it can be hard at times to remember what you were going to say or things like that.
Sometimes, you know what's fun about shooting when you shoot exteriors, when you're shooting on the street in Toronto, Donna and Harvey had such a great scene on the street when he comes to give her her bonus check and get her back, to come back to the firm.
And that day it was over 100 degrees and we were shooting on one of the busiest streets, one of the best looking but busiest streets in Toronto that had cable cars. And there's no cable cars in New York. So we were constantly having to stop so that the cable cars wouldn't be in the shot.
And it was just a lot of picking up the pieces like and hurrying and trying to just get it while we held the traffic, let's just get a shot in, that kind of thing. So it was kind of – it's kind of exciting and challenging at the same time to be dealing with those kind of elements.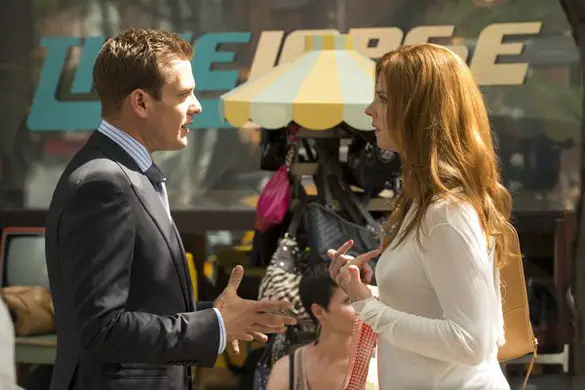 You have done a lot of guest roles in many popular shows. How does it differ for your acting point of view compared on being on a regular show or a guest star? Is it easier, harder, or is it fun and challenging, which one is fun and challenging?
Sarah Rafferty: Well I think, you know, it's all great because it's really fun to be able to play different characters and to go visit other people's shows and be a guest on them and work with different actors. That's, you know, always a pleasure and a great opportunity.
But when you're a regular on your own show there's a comfort level that you have with the crew and the other castmates so going into work can feel like going to your second home. So that's one of the real pleasures of being a regular.
And also being a regular on our show, it's been really fun for me getting the scripts each week just seeing how Donna evolves. And I'm just excited to kind of be on the journey with her going forward. So that's a real pleasure about being a regular on a TV show.
The second season definitely has a darker tone. And not so much that it felt like a different series but there was a – because at the heart it was still the same but there was definitely a different tone. Have you enjoyed the intensity of this season versus the first season?
Sarah Rafferty: Yes that's a great question. Yes you're absolutely right. It did get darker this season. And I have enjoyed it, I think we all have. I think because the nature of being in the second season there was the time and the luxury to really dig in with these people. And, you know, as an actor I was totally psyched that Donna got fired and all that messy stuff that was going to come out of that.
And what pops in my mind right now is kind of one of the first big blowout scenes for Donna was the scene in – I don't know if you remember in I think it was episode 205 when Harvey comes into the bathroom and they have it out. And she admits that she destroyed the document and then realizes what a mistake that was.
And he says I'm not going to fire you, I might kill you but I'm not going to fire you. And, you know, that was exciting, you know, when the material took that kind of turn. I had fun with it and hopefully the fans too.
Do you stay in character when you're filming and when you go home do you leave Donna behind?
Sarah Rafferty: Yes I can say I definitely leave Donna behind because my life as a mom is decidedly less glamorous than Donna's life. The outfits are much different.
Donna getting fired was one of the biggest moments of the first part of season two. What was that like for you to play it with Gabriel Macht?
Sarah Rafferty: It was really exciting. Gosh it was really exciting because like I said before, you know, taking that kind of turn into the relationship getting very messy was fun to play as an actor. So just how much it complicated their relationship in the episodes that followed was great.
And also what was really fun was that the flashback episode came after that so we got to flash back to a time when things were – when they were younger and, you know, more energized and more lighthearted. We got to flash back to that too which I felt was kind of perfectly timed considering all the heaviness that was going on in their situation.
And also, you know, as I mentioned Gabriel and I are old friends so some of it was – sometimes when the scenes are very serious it can be – we need to take a minute to pull it together because it's just – it can be funny to us as people when it's 4:00 in the morning and we're really tired and challenged.
What advice would you give to young actors?
Sarah Rafferty: I think I would say something that has been said which is just is to keep studying, like keep going back to class and keep working, keep working on your craft and keep digging. And I think I'd also just say that it's a marathon, not a sprint. Like, you know, don't give up, keep going. I would say that.