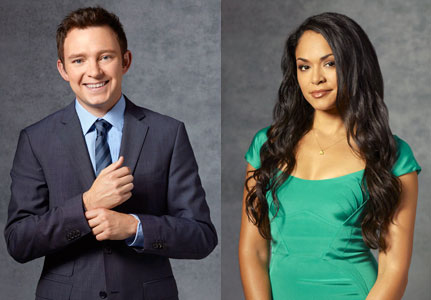 Nate Corddry and Karen Olivo, two of the stars of NBC's Harry's Law recently got together to talk about the show and how much they love working with series star, Kathy Bates.
Olivo plays Cassie Reynolds and since she's new to series TV, she told me that said that Bates is "always willing to go in any direction that I'm ready to go in just to help me out."
She starred as Anita in the acclaimed Broadway revival of West Side Story which won her the 2009 Tony Award for Best Performance by a Featured Actress in a Musical. She made her Broadway debut in Jonathan Larson's Rent and also originated the role of Vanessa in both the Off-Broadway and Broadway productions of the Tony Award-winning musical, In the Heights.
Corddry started his career on The Daily Show with John Stewart and after leaving that show was soon cast as a series regular on Studio 60 on the Sunset Strip, created and produced by Aaron Sorkin. He's also appeared in the feature films as The Invention of Lying with Ricky Gervais and The Ugly Truth with Katherine Heigl and Gerard Butler.
In this Q & A, the two talk about Bates, their characters and the biggest challenges of working on the show.
Harry's Law airs on Sundays at 8/7c on NBC
What would you say has been, so far, your biggest challenge for working on Harry's Law?
Nate Corddry: We don't have a catered lunch so…That question is really hard to answer and I'll answer and then Karen can answer but in my experience in television, which has been brief, there's always at least one issue that you have to negotiate with a personality that's difficult to work with, that holds the camera, that is – that just makes for a difficult situation like any other job, it doesn't matter what job you have. There's always one person that you're like, oh god, if I get stuck with Frank today I'm going to loose my mind.
This crew and cast you don't have anyone. Everyone there is happy to be there, is professional, works exceptionally hard and I've never once been frustrated going to work or leaving work. I look forward to going there. It's like a great big family and that's sort of – so many people say that but I feel like on our show it really is and I'll hand it off to Karen.
Karen Olivo: You know, actually, I feel exactly the same way. I was told – I'm from the theater so this is my first real TV things where I'm on every week and I was told by so many people in New York that the egos in LA would be soul crushing and I've yet to encounter any of them.
So I would probably say if there was anything difficult for me it would be purely on a technical note which trying to not play to 1700 people and trying to play to the camera which is very different for me.
But, yes, I really do echo everything that Nate's saying. These people are really great and it feels kind of like, to me, it feels like a troop of actors that we could be doing a play like in the East Village right now and this does not feel LA or (unintelligible) or ego-driven at all which is really awesome.
Do any of you have like a favorite or most memorable moment from the episodes that you've shot so far for this season that you want to talk about?
Karen Olivo: It would probably be – I think it was Episode 3 with Alfred Molina. We had like one scene where no one could keep it together because we were having so much fun and there was some sort of video that we were supposed to be watching on TV and for some reason somebody in the scene thought something was funny and it sort of – it caught on like wildfire. I mean, no one kept it together.
Every single laugh one of us broke at some point ending with Kathy Bates who is the most professional women I've ever met but – it took every single last one of us down but it was just because we were having so much fun but, yes, that one sticks out in my memory as being like, yes, this is like the greatest job ever. Alfred Molina is cracking up on screen. I just thought that was so cool.
Nate Corddry: Yes, I would say a similar thing like it's not the moments so much that end up on America's television, it's the things that don't make it on to TV that we share as a group of 75 people in a really big cold room everyday.
Those things that don't make it on to TV that you only share with your family. So – and there's been tons of moments like that, they just keep on happening because everyone's really happy to be there.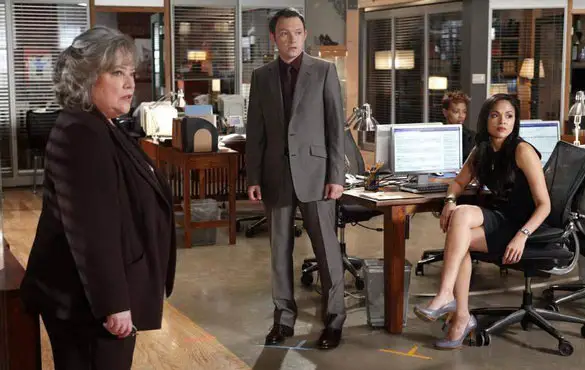 Nate, can you talk about how Adam evolved throughout the latter half of the season as compared to the first?
Nate Corddry: I think a lot of it has to do with his relationship with Harry. It's been up and down, mostly up. He has an enormous amount of respect and appreciates how talented she is as a lawyer but also sees her without her really know it almost sort of like a mother type figure I think. And this season he starts to see in different ways that she's human and that she's prone to weakness and prone to making mistakes.
And in the first season I think we won every case which is pretty impossible. And Harry Korn was like perfect in that – kicked ass and dah, dah, dah, dah, dah. And Adam has to negotiate his perception of Harry which is starting to change a little bit and his perception of the law firm is changing, I think, a little bit but I think the biggest thing in flux is his relationship with Harry.
Karen, after getting to know the character of Cassie, how has she pushed you in news ways after coming from the theater?
Karen Olivo: Well, she's extremely reserved and, you know, theater people are nothing like that. We're kind of big and boisterous at all turns.
And there's something very poised about Cassie which, I mean, it really is work for me as Nate will tell you. I'm a big clown and a kid so, you know, every episode where they put me in another tight fitting suite or tight fitting dress looking extremely studious is a bit of a challenge for me.
But, it's really great because it really has bled into my everyday life. I think that I can conduct myself in a more adult manner now that I've played Cassie Reynolds.
Nate Corddry:  And you're wearing sexy dresses more often too.
Karen Olivo: That is true, yes, yes. I am.
How is your working relationship with Kathy?
Nate Corddry: I can't speak for Karen but she's just a wonderful – just a chick from Tennessee really when you strip it all away. Really funny, really generous, works really hard and treats everyone with respect.
Karen Olivo: I've found that she's actually so generous with us. I think she's probably one of the nicer actors, older actors, that I've ever met. She's so willing to give you back story on any of the shows that she's done or if you don't understand something she'll explain it to you and she's – it's been really helpful for me coming from a different medium.
She's constantly like right there, open, waiting and I think that she's also aware of the fact that if you come in from like another medium like I did, I will play the scene differently and she's always willing to go in any direction that I'm ready to go in just to help me out which is – I mean, I can't stress to you how wonderful I find that because it can be pretty stressful coming in and she's made it so nice and so easy for me.
So, I mean, yes, I can't say enough about Kathy Bates. She's totally my hero.