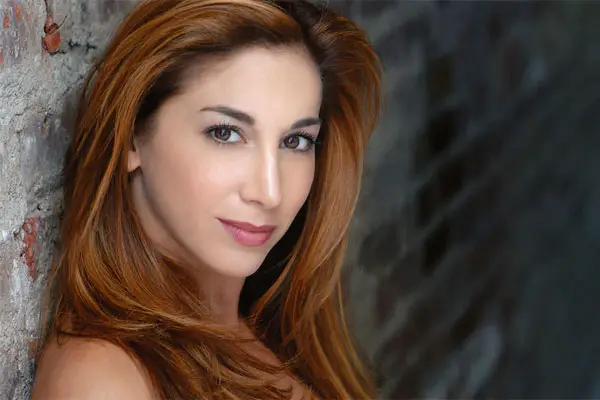 Waitress, the new musical inspired by Adrienne Shelly's film and starring Tony winner Jessie Mueller (Beautiful), opens on Broadway this Sunday, April 24th. Directed by Tony winner Diane Paulus (Pippin, Finding Neverland) and featuring original music and lyrics by Sara Bareilles, the show is about Jenna (Mueller), a waitress and expert pie maker in a small town who dreams of a way out of her loveless marriage. The town's new doctor and an upcoming baking contest might just be her chance to start her life over.
Waitress is making history as Broadway's first ever all-female creative team, including Bareilles, Paulus with a book by Jessie Nelson and choreographer Lorin Latarro.
As a performer, Latarro's appeared in 14 Broadway shows including A Chorus Line and Movin' Out and as a choreographer, she helped Sir Patrick Stewart and Sir Ian McKellen with their vaudeville moves for Broadway's Waiting For Godot.
I talked to Latarro during a break in her busy schedule about Waitress, working with actors and how she finds time for all of her projects.
This show is kind of a big deal. It's the first show to be written, directed and choreographed by women. Obviously you're are proud but did you even think about this until it was made known?
Lorin Latarro: No, I guess I never even realized that this is the first time. I had no idea.
How did you get involved in the show?
Lorin Latarro: I met with Diane a few times and put some numbers on their feet for her and I got the job. I got very lucky. I'm very grateful.
I read where you kind of go in the mind of the main character?
Lorin Latarro: It was just really for her daydreams. So, when she's talking about baking pie, we're watching her daydreams happen on stage. So, we're not really watching her put all these ingredients in the pie, we're watching what she wants out of life.
Once the show is up and running, will you still go to show and check things out to make sure things are going good?
Lorin Latarro: No. Once the show is up and running, the show is frozen. You can't do any more fixes. I can come and take notes and make sure it stays clean, but I can't change material.
I would go mad if I couldn't do that. I know the show is frozen but would you ever think, "I would love to change this or that."
Lorin Latarro: Sure everybody's like that all the time. I mean, the work is never done but it's a union rule. The next time I can change it is for a tour or unless we go back into rehearsal process.
When creating the choreography, do you create it first or do you create it once an actors been cast? Or do you change it once an actor has been cast?
Lorin Latarro: It just depends, every single thing is different. Sometimes I can hear a song and just choreograph it in my head before even I even meet anybody. But most of the time, I like to know who the actors are, read all the text leading up to the song and how they move and behave as actors and characters and then choreograph it based on all of that information. That's usually how I work.
You can just listen to a song a couple times and start getting these images in your head on what you want to do?
Lorin Latarro: Oh gosh, sure. I can't listen to music when I'm trying to fall asleep because I keep choreographing, so it's keeps me awake. It's what I love.
How do you work with actors who have, let's call them limited dancing abilities, like I do?
Lorin Latarro: If you're going to get cast in the show, it's because you're great. I work with whatever limiting dance ability you have, that's how your character would move and behave. So I work very closely with the actors to sort of find the authentic way for them to move.
I'm always amazed at how fast dancers can pick up a routine during auditions. Within the first like five minutes they got everything down and I'm over there still working on the first two moves.
Lorin Latarro: Well, that's what they do for a living, right?
When you watch these auditions and see that, how you judge someone's abilities?
Lorin Latarro: It's all about potential, of course. I know that it'll take more time but as long as I see that they have potential and are in their bodies, I'm fine with it. Whatever time it takes it takes.
Are you really collaborative in your work?
Lorin Latarro: Very, very. You can't not be in musical theater because it's a collaborative art form. Sarah's music informs the writing, the writing informs the directing, the director informs the choreographing and sometimes choreography informs the other things. It just depends. But I'm very collaborative.
You have a lot of Broadway credits under your belt. Did you always want to be a choreographer or did you fall into it?
Lorin Latarro: No, I always wanted to do this. Absolutely.
How was your time on Broadway?
Lorin Latarro: I loved it, I loved it. I stayed there for many years. I felt very at home on Broadway.
Would you ever go back and do another role?
Lorin Latarro: No, no, no, no, I'm done.
I see that you've got so many things going on. Having all these projects going on at once, how you organize all that?
Lorin Latarro: I don't know, on my day off I will read new scripts, I listen to music that I need for the next project. I love it. So to me, none of it's work. It's my life.
Are you just constantly busy?
Lorin Latarro: Yes, I'm constantly busy but I have ADD. How do you think I got into dancing in the first place? [laughs]
You also choreographed Waiting For Godot with Patrick Stewart and Ian McKellen. How is it working with those two?
Lorin Latarro: It was amazing. They did little vaudeville sequences. The whole premise of that show was that they were vaudevillian actors, you know hundred years ago. So, there are these little flourishes like hat tosses and dances and soft shoe tap pieces. So, I just went in and curated how they moved.
Those guys are wonderful. There really both beautiful incredible kind men.