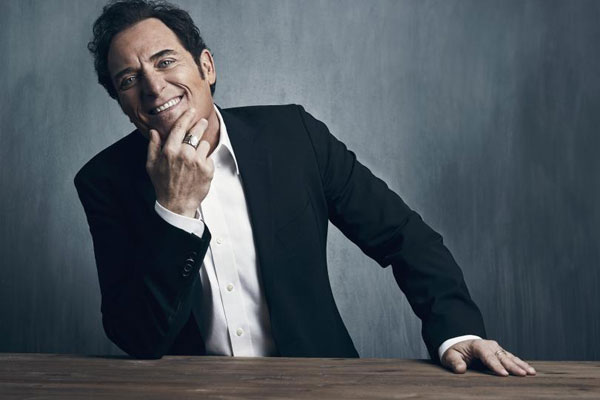 "Everyone gets typecast a little bit for sure" – Kim Coates
Talking to Kim Coates is like getting a big shot of adrenaline. He's got so much energy and he's so open and honest that it's impossible not to be inspired by him.
Coates, who has over 100 credits on his impressive resume, finished up his 7-season run as Tig Trager on Son of Anarchy and has been keeping himself busy. He's just finished shooting his seven film and they all sound pretty great, especially Officer Downe. The movie, which is based off of the graphic novel of the same name, is about an L.A. police officer (Coates) who is killed in the line of duty. But that doesn't stop him because he's repeatedly resurrected and sent back on the streets to fight crime.
I talked to Coates recently about his new films including Officer Downe, his work as Tig on Sons of Anarchy and the possibility of doing theatre again.
Officer Downe sounds really freaking awesome.
Kim Coates: It does, doesn't it? I've seen it. It's going to be groundbreaking. I really mean that. For me, saying "yes" to doing this guy, which is the first movie that I wanted to do when Sons of Anarchy ended, I've been saying "no" to all the TV stuff right after Sons ended, and this one came on my desk and I was so intrigued. I was so blown away at the graphic novel by Joe Casey and artwork by Chris Burnham that it kind of blew my mind. I didn't know how we could do it.
So, when I met Clown, Shawn Crahan, the director who's from the band from Slipknot, a brilliant boy, he was in Berlin and so he was in a conference call with me and eight other people in a room and I said to them, "So, how we gonna pull this off in 28 days, 29 days?" He goes, "We're gonna pull this off if we cast you." So that was kind of the beginning of my love affair with the entire process of this movie.
But it's crazy man, it's a crazy film. It's like nothing I've ever seen for sure.
I read that the gun you're using in the film weighed 16 pounds?
Kim Coates: Yeah, the Answer Man. 16 pounds. Now, you know, I'm a strong guy. I've worked out. I had to show off my booty a few times, so I got in pretty good shape. And I tried to do the best I could but I was not prepared to lift up the Answer Man and have it weigh 16 pounds and try to c**k it and then pull the trigger all at once. It was brutal but I got it down finally. But yeah, it's quite a piece of work for sure.
And you have to make it look like you've been doing it for years.
Kim Coates: Like I was born with it, yes. Like I was born with this gun, yes exactly.
We had a great time, the stunt guys were great. Daniel Bernhardt and Frank Blake did an amazing job, everyone did an amazing job. I just can't wait to share this film with the audience that we will garner hopefully for this movie.
When did it come out?
Kim Coates: Well, it's going to open at the LA film Festival June 3rd. I believe tickets are sold out. They went like hot cakes. We don't know after that.
How do you like shooting a movie like that so fast?
Kim Coates: You know what's going on brother and I mean this… I think it's pretty much a miracle when any movie gets financed these days. It's really, really so much harder to raise money for film and something like this, which was so different. Based on the comic book, so graphic, so restricted. This is 18 and older film. This ain't for little kids, I'll tell you that.
You know, we had to raise the money. Deadpool is a perfect example of what an incredible budget and incredible acting, incredible writing and the restricted type movie can do, right? This one is hopefully in the same family. It's much different. It's certainly not the same kind of movie as Deadpool. It's not as funny as Deadpool, but the stunts and the fights and the look – Dawn Ritz who did my wardrobe and everybody else's – is pure to the comic book.
I just think it's hard to raise money so I'm just really proud that we pull this thing off in like 27, 28 days. We should've had 50. We should've had 35. Should have had 40. But when you don't, you do it. You just do it and everybody worked their a** off.
Yeah, you just make it work.
Kim Coates: You make it work, you're damn right.
After Sons of Anarchy, were you itching to go back to work? Or were you holding out for something like this? Something where you had like a, "I have to do this" moment?
Kim Coates: The one thing I knew I didn't want to do is get right back as a regular on a television show. I knew that I needed to take some breath away from playing Tig Trager. That was sort of magic in a bottle for all of us in different ways and I know many of us have been so busy since the end of that show.
Before Sons of Anarchy, I was always that guy. "Oh, you're that guy in Waterworld. Oh, wait, Open Range or Goon. Yeah, you were that guy." Now I'm Kim Coates, right? Sons of Anarchy, the power of television, especially really good television has shot my name out there to the stratosphere and I think producers are so happy to find out that I'm actually available 12 months of the year now instead of just six.
And so I was in no rush to do anything until it was absolutely amazing and I just finished my seventh movie in the past 14 months, so it's all good.
And a couple of them are comedies as well.
Kim Coates: Damn straight, Lance. I'm a funny guy and I need to keep sharing that with all my peeps out there.
Gary Oldman is a buddy and we talk about this. Everyone gets typecast a little bit for sure. Everyone, right? Cheekbones and blue eyes and big nose, for me anyway, you know it's all tough guy. And I do tough guys pretty good they say. But it's all about the writing with me and when I get to do comedy, I frickin' love it more than anything.
So yes, I have some comedies coming up this year. One with Kevin James and Andy Garcia and Yul Vazquez that I shot in South America and Atlanta called The True Memoirs of an International Assassin and of course June 2 I get to reprise my role that I did a few years ago with all those guys, the big hockey movie, Goon. It's opening at the Toronto film Festival. It's so fricking funny Jay Baruchel did such a great job directing and producing and writing that I can't wait for people to see it. I can't wait for people see all of them actually.
You mentioned that you played tough guys really well and you do. But all of your performances are, I don't know if I want to say layered… With Tig, he's such the ultimate tough guy but you made him have such heart, you know what I mean?
Kim Coates: Thank you so much, that means so much to me, man. Honestly, Lance, because that was the big challenge that I had with myself eight years ago when [Kurt] Sutter convinced me that I had to play this guy. Because he didn't have much to show me in so much as writing. I didn't know what this guy was gonna be. I read one little scene and he was so psychotic. I went to Kurt, "It's not for me. I can't. It's not for me." And he stopped me and he said, "Just wait a minute. This guy, yeah, he's gonna be tough. Yeah, he's gonna be a bit psychotic. Yeah, he's gonna be kind of crazy but he's gonna have heart. He's gonna be loyal. He's gonna be the heartbeat of the club by the end of the story and he's gonna be f*****g funny. Please come along on this ride."
And I'm so glad I did because I searched for that constantly. And Kurt couldn't write for all of us beautiful supporting parts on the show all the time but when he did write for Tig, selfishly I think I got the best stuff to play.
When you first get a script for a project, what are some of the first things that you look for when you open up the first page?
Kim Coates: The very first thing that's always been a barometer for me is – and you know all the scripts are emailed now, they never send them to your house unless you're traveling so they're always on the computer. So, I gotta make sure my reading glasses are clean. I've got my water my water or glass of wine. You open it up and it's a really good thing for me if I can't stop reading. If I just can't stop reading and can't wait to turn the page and get to the next page and get to the next page.
I never just go to my part or my scenes. They're always great parts obviously but how big or how small doesn't interest me. It's all about the writing.
So, once I get through the whole thing it's one of three things. It's either a 'pass right away' or it's 'this is really good, but I've got some notes. Can I talk to the director? or 'When does this start? Who's playing the other parts?' And if I know the director and producers or I'll look them all up if I don't know. I've just never been afraid of working with anyone. It's all about the script and the part and that's it. It's all about the writing for me.
On your off time are you reading a lot of scripts?
Kim Coates: You know, I haven't had a lot of off time. Since Officer Downe, I've pretty much gone from movie to movie to movie. And in my off time, I'm doing my charities or I'm doing the odd bike show, the odd signing for my fans in Europe. I read a book when I get a chance and I'm the father of two girls.
Look, be careful what you wish for, right? It's worked out really well for me. I love to travel and I love my fans. I love my charities.
I want to direct one of these days. The problem with directing and you know this because you're an actor, if you direct something that you fall in love with, it's gonna take up a lot of your time. That's it. That's it. You have to take up a year more, than a year of raising the money, casting it, prepping it, shooting it, editing it. And that's gonna be a fabulous experience for me when the time is right. It's not that time yet. And I want to go back to stage.
You how great it is right? You're an actor, when you can be on a show like Sons for seven years and I've always done one or two movies on my off time with Sons but now it's all film. And it doesn't mean I won't go back to television again because I will when the part is right and the time is right, but to show seven different guys away from Tig Trager, I can't wait for my fans to see it all.
Would you direct something that you star in as well?
Kim Coates: Like I said, I don't know. That's probably gonna be part of it. I mean, I've been offered to direct a script next year and I haven't read it yet because I'm afraid I'll fall in love with it.
You mentioned going back to stage, I think that would be awesome. I know you've done a bunch of theater in the past. Would you do Shakespeare again? You were Macbeth right?
Kim Coates: I was, yeah. You've done your homework. I've done 40 or 50 professional plays and the last one was in 1990. My kids have never seen me on stage and it's time that they did. I've been offered theater for the past 20 years, 25 years. I just never said 'yes' to it because of my film life or working or trying to buy a house.
And unfortunately you don't make that much money.
Kim Coates: And you don't but it's for the love of the craft, right?
I've been on Broadway. I played Stanley Kowalski in 1989 on Broadway. I was the youngest Macbeth ever at Stratford, you mentioned that. I played Dracula in Atlanta, Les Liaisons Dangereuses in Louisville, Kentucky. It's time to get back to stage and I've been offered a play which I won't mention because when I say 'yes' to this thing at this thing if it happens next year, it's gonna be so massive. It's gonna be so awesome that I'll talk to you and everybody else when that happens. But yeah, I'm thinking about going back to stage for sure.
What was the worst audition that you've ever been on?
Kim Coates: Worst audition? Well, I'm lucky enough that I don't have to audition much anymore but back in the day… Oh God, I don't know. It's been so long.
I'll tell you what the worst thing is about auditioning. I'm sure this happens to you. When you actually go into a room and it's 4' x 6' and there's two people sitting in a chair 3 feet from you. They got a camera going and you're supposed to scream to the gods because you've been shot in the shoulder. It just doesn't work. It never works. So get the rooms bigger. Please. It's too tight, too close. I think I scare people. I don't know.