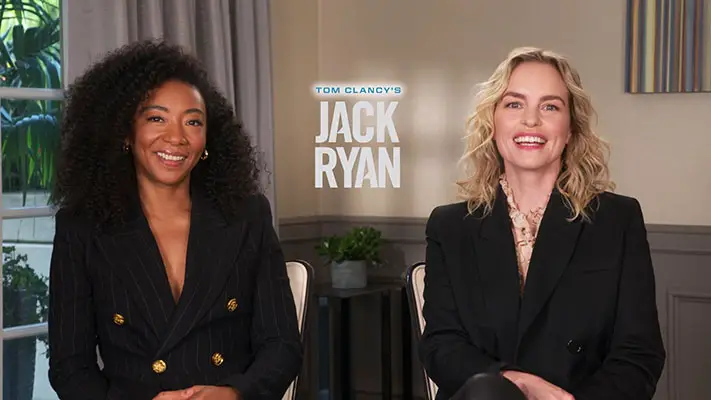 Season 3 of Tom Clancy's Jack Ryan has just premiered on Prime Video and this season, it's got bigger stakes, more action and brand new characters to help (or hurt?) Jack's (John Krasinski) latest adventure. Two of those characters are Betty Gabriel as CIA Rome Station Chief Elizabeth Wright and Nina Hoss as Alena Kovac, the President of the Czech Republic.
The show, which also stars the great Wendell Pierce and Michael Kelly, takes up where season 2 left off, with Ryan on the run after being accused of treason, all while racing against time to prevent a global disaster.
In this interview Gabriel and Hoss talk about their characters, playing powerful women and how they mapped out their roles for the globe-trotting season. These are edited excerpts from that conversation. For the full interview, check out the video below or watch it on YouTube.
There's a great line in the first episode, Nina, where there was a guy says to you that he's not comfortable with powerful women. And then you say, "What man is?" As someone who has two young daughters, I love seeing strong women represented on screen. Do you two ever think about that when you take on roles?  
Nina Hoss: To be honest, I don't because I never really think about my gender other than when I get confronted by it. Because I don't feel any boundaries should be there. So, I am hoping the more we get to portray those kind of women that are out there, and the more normal that image gets, the more it'll translate into reality.
And for your daughters that they feel like, "Yeah, of course, I'm gonna be the president one day." Or, "I'm gonna be the head of the CIA." Why not? And why not?" [chuckle]
So yeah, I do love portraying people that are intelligent, that show all sides, and that was the thing that I loved about Alena. You can see her in a very vulnerable state. You can see her working her way through that, working her way out of that. In the moment where she needs to be calm and collected, she can handle that. So, she's everything. She is from being very vulnerable to being very strong, and that's great, and that should be normal too out there on television.
Betty Gabriel: These characters just happen to be women, and you don't go… It's nothing to throw a parade over. But we're not there yet. So, let's throw us a parade. Yes. [laughter]
The tension and stakes ratchet up in each episode. Acting wise, it never feels repetitive. It's always a different kind of energy. Do you map out your character arc throughout the whole season or per show?
Betty Gabriel: I definitely try to. There was not a whole lot of prep time for me for this, so there was a lot of jumping in and trusting and working with the people in the room behind the scenes, behind the camera. I had to put a lot of trust in the characters, or the actors portraying the characters. But as the character, she has a lot of mistrust for everyone. So that's interesting.
You just have to play the moment with the scene, and yeah, hopefully you pray that it isn't repetitive. But there's just a constant change and you're jumping from this episode to the last episode and you're going from Budapest to Greece. So, that way of working keeps you on your toes. It kept me on my toes.
Nina Hoss: Yeah, and I think for my character, I really had to map out an arc because there's so much going on emotionally, on an emotional level for her, that I had to make sure I know each moment exactly where she's at and what just happened and what's about to happen, so that I can keep it together in a way and that it makes sense. So, I had to be very clear in that.
And that was also the fun of it, that you carry a scene that you maybe did like two months ago and then you have the following scene two months later and you kinda go, "Ah, okay." And I know exactly how that felt. And then bring it back in. So yeah, but you have to do that. You have to constantly go back to the scripts. What happened? Where am I? What's happening?
Tom Clancy's Jack Ryan is now streaming on Prime Video