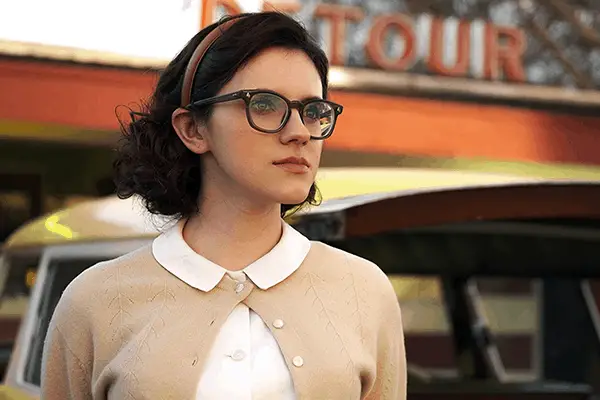 "I think one of the best ways to get into a period piece is to get into the costume, get into the location on the day and you really truly feel the power of set decoration, costuming and makeup." – Kara Hayward
Kara Hayward stars in director Martha Stephens sad but sweet film, To the Stars. The film, which premiered at the 2019 Sundance Film Festival, takes place in 1960's Oklahoma where a shy teenager (Hayward) strikes up a friendship with the worldly Maggie (Liana Liberato).
In this interview, Hayward chats about the role, getting into the 1960's mindset, how she booked her first acting role in Wes Anderson's Moonrise Kingdom and more!
How did you get the role?
Kara Hayward: I just got an email one day from my agents. It had a script attached and it said Martha Stephens is directing this and would like to meet you via Skype. And when I read the script… well, It's really hard for me to just sit down and read a random script and tear up from it. But this one absolutely got me. I knew pretty quickly from reading the script that it was going to be a special story and I knew that this character was just so layered and interesting and would be so much fun to try to get into the mind of. And so once I spoke to Martha, it was over. I was in it. I was in love with the story.
When you're doing something like this, it's set in the '60s, do you do anything to get the feel for that era and get you into it?
Kara Hayward: I think one of the best ways to get into a period piece is to get into the costume, get into the location on the day and you really truly feel the power of set decoration, costuming and makeup.
Martha Stephens also talked us through every little thing that we were going to be having to feel, what was related to the time period and the location. Plus just having gotten there a week before filming, getting into pre-production and stepping foot into all these locations and meeting all the actors that were going to play the characters. The process all sometimes unfolds itself in that way. Does that make sense?
Oh yeah, absolutely. Your character starts out as this really shy, almost like this wallflower type, but by the end of the film she's changed. Not a huge way, but in a subtle, nice way that feels natural. What did you do to prepare for the role to create that arc?
Kara Hayward: Really, I think one of the most important things is having the director there and knowing where you are in the story and what came right before and what's going to come right after. Because you have to have forged this character in order to feel out where exactly it's going to be. It's a really unique process. I would say it's just about having forged the character, knowing where she is emotionally at the beginning and how each of the events that unfold in the movie affect her personally, specifically her emotions and her ability to be herself.
Are you the type to do a character biography or do you write all these notes in the side of your scripts?
Kara Hayward: Oh, I like to write notes in my script, but most of the time honestly I find it something that has to come really organically. I like to have obviously a biography of sorts in my mind. As I begin, I like to know where parts of Iris come from, the family stories, the incidents that have happened before. I like to be able to think of those and have those really specific in my mind.
You have a really, really nice cast, but Tony Hale he plays this character that is so totally different from anything that I've ever seen him do. He's spectacular.
Kara Hayward: Yeah, he absolutely knocked it out of the park. I thought he was so great in the movie, and he's just such a great guy in general. He's so, so wonderful and nice and he's really funny in real life as well. Yeah. I thought his performance was particularly effective because he's so different from what you expect to see him as.
The very first thing that you auditioned for was Moonrise Kingdom, Wes Anderson's film. And you actually got it.
Kara Hayward: Yeah.
That's amazing. Can you tell me about that? How did it happen?
Kara Hayward: I don't know. Beginner's luck. I can't exactly go back and tell you. Truth is, when I auditioned for it, I didn't really have a lot of acting experience or well, really any. I tried to draw something out of myself naturally when it came to auditioning for her and I guess Wes was responsive. He liked it.
Was acting something that you wanted to do?
Kara Hayward: Well, I mean a large part of it was looking around at all those great adult actors and being like, "Oh my gosh, you guys do this for a living?" You get to wake up in the morning and come to this set and get into costumes and play pretend with other people. It was so amazing to me. And I just really wanted to keep doing it. I got the bug. You know? It just happened.
You auditioned for that in Boston?
Kara Hayward: Yeah. Yes.
When did you decide to move to either L.A.?
Kara Hayward: I moved to L.A. right when I turned 18.
Oh, wow.
Kara Hayward: Yeah. I graduated high school and I said, "I know what I want to do." So I came out here and the first thing I made was To the Stars.
To the Stars is streaming now on most platforms, including Amazon Prime.