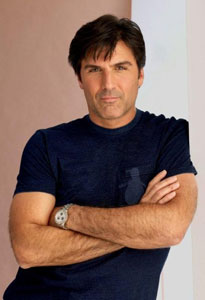 What's it like to play the same character for the better part of 10 years? Vincent Irizarry, who played the villainous heart surgeon, Dr. David Hayward on All My Children, told me that it was "exciting" and an "enormous opportunity" to "travel that journey."
All My Children, which ran on ABC for 41 years, aired its last episode Friday, September 23rd but the good news is that Prospect Park, the company that acquired the rights to the show, has announced that they will bring it to the web. Vincent said that the company is just now starting to reach out to "a handful of actors" but that they are still in the negotiating stages.
I talked to Vincent, who won a Daytime Emmy in 2009, about his time in the fictional Pine Valley, memorizing 30 pages of dialogue, what the last day of shooting was like and his upcoming fan event, A Tribute to Pine Valley.
For the full interview, click the audio link above or download it from iTunes [The audio is a bit wonky due to the phone connection. Sorry]

You've been playing the same role for, what, 12 years now?
Vincent Irizarry: Yes, I left for two years.  I left to do another show for a while.
What's that like playing the same character for 12 years?
Vincent Irizarry: I'm sure you can appreciate this as an actor, to have the opportunity to play him for 12 years, that's an enormous opportunity. I really do feel like I know the intimate details of this character, being who he is and what makes him tick.
Just to travel that journey with him. This character is such a complex character to begin with because his father committed suicide at a young age, when he was young boy he was 11 years old. And his mother provoked him to do it. So, he is really very damaged and that's the reason why he became a cardiologist to begin with, every time he saves a life it's as if he is bringing his father back. 
So, he's very complex but in many instances, actors who get to do a play for a limited run or even night time television, you might do it 5, 6, 7 years but if you spend years with a character… it has been exciting.   When you're playing a character for that long, you probably know him as good or better than the writers.  Can you go to the writers or producers and tell them some ideas you might have for them for the character?
Vincent Irizarry: Absolutely, yeah, I can. Years ago, one of the more defining moments of my character was the storyline where they introduced the history of my father and they brought in my mother onto the show as the character named Vanessa.  Up until then, the audience knew that I was an antagonist but they didn't know why I was the way I was, what made me tick.
I went to the executive producer at the time and the President of network for daytime, that's Angela Shapiro, and I said, "I really feel like we need to bring somebody on the show from my past, that knows my history. That we can introduce the audience to who I am and why I am this way.  Because we will fade away quickly because we'll just be a nuisance in the eyes of the audience. They won't get it."  They completely agreed and they created this wonderful storyline for me that really did substantiate those behaviours, the pathology of the character. So I loved it.  I'm very happy about it.
How do you prepare for a day shoot?  You've got a ton of dialogue and it's a full day.  How do you prepare the night before?  Is your day and night just work, work, work?
Vincent Irizarry: It is, yeah. Especially when you're in a heavy storyline.  I mean, these last three months, I was a major player throughout the entire story.  Everything seemed to be centered around my character.  I was doing seven, eight shows a week. During those times, I could be working hours of 8 to 14, 16 hours a day on that and then going home and learning 30, 40, 50 pages of dialogue for the next day.  So my hours are sometimes, 60-70 hours a week.
It's a lot of work and those weekends, I'm exhausted and it's just not long enough frankly those weekends. Because then I'm busy Sunday, you know.  Even Saturday sometimes as well working on stuff for the week, trying to get a head start on it and I pace myself.  It's a lot.  The volume of material that we produce on a weekly basis is astounding.  We did 242 one-hour episodes this past year.  That's crazy.  One-hour episodes or a one-hour nighttime shows, they shoot in 7-9 days.  We do more than an hour-show each day.  That should give you some indication.  It's an enormous amount of material.
What about memorizing the script? Over time, does your brain get used to soaking up all those lines you see on the page?
Vincent Irizarry: Yeah I think, absolutely.  I have always been good about memorization.  When I was younger, I studied classical piano and I'm not a good sight-reader because I would read the music, I would read like 3-4 times the Chopin Waltz or something and then put it away and not look at it again and I would just play it by memory.  As a result, as I've said, I'm not a good sight-reader, but I still could play some of the songs from 35 years ago by memory. I just don't have the technique I used to have back then because I don't play as much as I used to. But my memory has always been exercised that way.
The thing is, after I'm done, I basically unload my hard drive, it's gone. I don't have to think about it anymore. And when I see it on TV sometimes a month later, I have even forgotten about those scenes.  "Oh yeah, that's right." So, that's the way it works.
What was the last day of shooting like on the show?
Vincent Irizarry: It was very emotional.  For me, it was sort of an out-of-body experience.  I finished my last lines and it was like, I couldn't remember doing the scene.  I was doing it with David Canary, a brilliant actor. He plays Adam and Stuart on the show. And it was emotional but at the same time, it was a celebration. You know, it's done. Agnes Nixon gave a beautiful speech and we've all sat around this beautiful tree that was made for us with the family tree of All My Children. And everybody came together with the crew and celebrated together and we actually had a wonderful sending off party. It was very classy.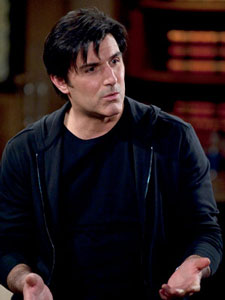 What are your thoughts about taking the show online.  Are you going to participate?
Vincent Irizarry: I think it's great. I think it's a bold venture by Prospect Park to want to do this.  Their intentions are to do 260 one-hour shows a year. They promised the audience they want to maintain the quality, the integrity of the shows, bring back the past.  But we're still in the beginning stages of that.  There's a lot to T's to cross, I's to dot. They just started reaching out to a handful of actors, the majority of people they haven't even spoken to yet.  They are still negotiating with our guilds, which is a good thing that they even want to negotiate to make sure that everybody who is working on them get, you know, actor protection, that they need to provide.  That's what we're trying to do.  That's exactly what we're trying to do and I give them credit, I think they are visionaries in this and I think it's certainly the way of the future. So, we'll see where it all goes.
So how did you get your start?
Vincent Irizarry: Well, I was going to music college, Berklee College of Music in Boston and it was there that I started working on a play there.  I got involved with a theatre company at the school, which was run by my English teacher and fell in love with it. He asked me if I'd ever desired to be an actor or act before and I said, "It was one of the things that I had a natural interest in but never got off my backside to do anything about it." And he invited me to audition for Jean Genet's play called Deathwatch, he thought I'd be right for. I got the part and I fell in love with the process. I really did.  For me, I found it even sort of therapeutic. Because I was spending 6-8 hours a day practicing piano by myself in a room every week, day in and day out. I was becoming more and more anti-social. This was very different, for me it was almost cathartic. On stage, in front of a group of people having a meltdown and breakdown right there and like flipping out and killing someone on the stage, or to to get into the psychology of a person like that and be able to show it through acting.  I loved the process.  That's where it started and from there, I kept auditioning for other plays in Boston and got them and then decided to come to New York, and try my hand here.  And I did theatre for six years before I did Guiding Light. That was my first first TV appearance in 1983.  It was a two-day role that turned into a two-year contract, at point on, I've worked in television ever since.
What's your advice to actors?
Vincent Irizarry: You know, you only become an actor if you feel that you cannot not be an actor. That you have to do it because it's a very difficult vocation and there are no promises, no guarantees.  It's a wonderful vocation if you are able to get the work and I would say that perseverance is the key. 
I can tell you that many people that I studied with when I first started acting, I was a scholarship student with Lee Strasberg in New York before he passed away and many of those same actors didn't last.  Maybe a couple of years, two years the most but they didn't persevere.  I do believe perseverance is the key.  If you keep persevering, opportunities will avail themselves and you have to be ready.  Be prepared.  Take it seriously.  I can't tell you how many times I meet people that are somewhere even 40 miles outside of New York City, they go, "I can't wait to be an actor.  I'd like to be an actor someday.  I want to be on a TV show." And they are working, making an honest living, working maybe in a  restaurant or something.  I'd ask, "what are you doing to make that happen as a reality?" "Nothing."  "Why don't you go into New York? You're right here? 40 miles to the city. Go take some acting classes,  go do some theatre in the city." And they are like, "I don't know, maybe.  Maybe I'll do that." Well, that's not a passion.  That's not a desire.  They are never going to do it.  That's a pipe dream.
If you want to be an actor, its like anything else that you want seriously, you've got to have a passion for it and a desire for it, because that's the only thing that's going to help you with the countless amount of rejections that you have to coming to you.
Tell me the Tribute to Pine Valley. That's in October, right?
Vincent Irizarry: Yes, the Tribute to Pine Valley. I'm going to be getting together with five other actors from our show.  Its' Darnell Williams who plays Jesse, Cameron Mathison who plays Ryan, Michael E. Knight who plays Tad, Walt Willey who plays Jackson, and Jacob Young who plays, J.R.  We are going to be doing three nights in October, it's October 25th, 26th, and 27th, and one in New York in Time Square, a beautiful old theatre there, Town Hall where we did All my Children.  We did our first Broadway Cares event there years ago. And we are going to be in New Brunswick at the State Theatre on the 26th of October and on the 27th of October at the NYC Theatre in Westbury on Long Island where I grew up. 
It's going to be unscripted. We're going to be there on stage and doing questions and answers, and pictures.  We have the best time when we go to do these things.  It's just a blast.  I think it's fitting tribute to the end of the show.
For tickets and more information about the upcoming event, go to A Tribute to Pine Valley.