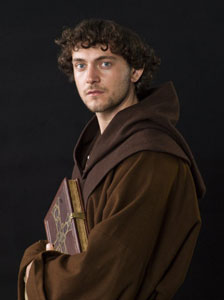 George Blagden plays Athelstan in The History Channel's great new show, Vikings. Created by Michael Hirst, the show is about the adventures of Ragnar (Travis Fimmel), his family and his band Viking brothers.
Besides his work in Vikings, you may have seen him as Grantaire in the film version of Les Miserables. From singing in the French revolution to playing a 12th century viking… he's has had a very good year!
I talked to George at WonderCon about how he got his part, being nervous on his first day on set – he had to do a sex scene…the very first day – and how he prepared to play a Viking.
Vikings airs on Sundays at 10pm on The History Channel
You had to shoot a Vikings sex scene. Was that awkward to shoot?
George Blagden: I mean, yeah. Of course it was very… like, of course it was very awkward. I'd met them before, obviously, but it was the first time you get to… it was literally the first thing I shot and when you have your first scene with other actors, you're kind of assessing what they're like as well and how you can get some good chemistry involved with these other people. And so to throw that scene at us as… well, they'd already done some scenes, but me with these two half naked, beautiful people was kind of, yeah, terrifying and very awkward and weird.
When you do your first scene, are you nervous?
George Blagden: I think so, yeah. Because as an actor, you audition for something and you still, or at least I do and I'm sure it's the same for lots of other actors, but you still don't know whether you're really right for the role until you… and you still get on set and, well I do anyway, I get on set and there's the director and all these cameramen and all the crew and they're all looking at you going, "This is Athelstan, huh?" Or you think it is.
You just wanna make sure that you're delivering this character in the best way possible. And so first days are always nervous and… but the great thing about television is that you don't have time to worry about it compared to film. I've found you have a lot more time on film and television you just… it's really instinctual and you have to just kind of, yeah, deliver, which takes the pressure off a little bit if you don't have 8 hours to sit around on set thinking about one line, "Hello." You know, it's kind of… it's a lot easier.
You talked about your audition. How did you get the part?
George Blagden: I had an audition in London with Frank Moiselle,  the casting director and it was, yeah, it was very, very easy. He actually auditioned me in a chapel underneath a very fancy hotel in London in the basement. So I actually had my audition in a chapel, which was very kind of weird and spooky. But it was really easy, he's a great casting director and it's great as an actor when you're auditioning for things when you get to audition opposite people who really help you out. So I was very lucky.
And how long after the audition did you find out you got the part?
George Blagden: I think it was a couple of weeks. And I was the first person cast in the show about a month before anyone else. So I sort of, you know, as you do on IMDB, you look up the project and, "Vikings. Let's see if anyone else has been cast," and I was thinking… and actually they cast everyone else really close to our start date, probably a week or two Travis and Katheryn were cast before we were supposed to go to island. And I was thinking, "Am I… is this a one man television show?" You know, it was a very easy audition process for me thankfully and I could not be more grateful.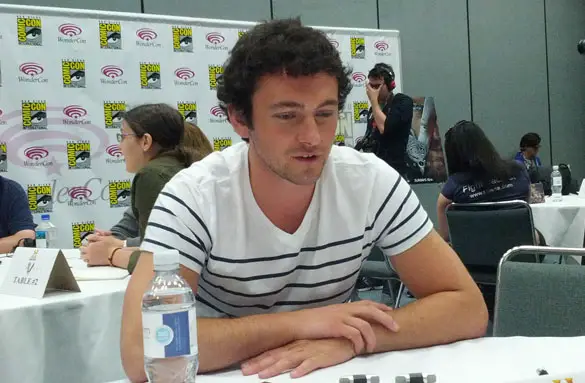 Since there's more of a historical record of England during this time, did you find kind of preparation more daunting or less daunting to have more to draw on?
George Blagden: Yeah. I mean, the thing about the Viking period, speaking to Michael, was that, and I didn't realize this, but before the Battle of Hastings in 1066, in terms of historical record, there's not much. It's all a lot of word of mouth and people wrote things down like the monks were writing gospel, but it terms of recording history, it didn't really happen. So what's been great to do with the show is the, you know, we can kind of make it our own and really sort of really explore this history that people haven't seen a lot of or know that much about. So that's kind of fun.
Will we see your singing at all?
George Blagden: Ooh, well, you saw a little bit in episode 2 at the monastery, but I… yeah. I'm not sure the Viking culture is a big one for people breaking out into song. So, yeah. Hey, I said to Michael Hirst, Vikings the musical on Broadway. I think it could really… I think it could really work. It's not been done before. We should try it. He would hate it. He would not do it.
What's ahead for your character?
George Blagden: I can, yeah, it's amazing for an actor to be able to play a character that has such an amazing arc that Athalstan does and he changes so much. And you'll see as the series progresses that every episode brings something new about the Viking culture that Althastan is faced with or has to deal with and learn how to do it. And I think it's one of the more interesting aspects of the show that people will want to come back and watch every week is what's gonna happen to Althastan this week? Is he gonna be asked to have a foursome rather than a threesome or is he gonna, you know, how's he gonna really integrate himself into the society. So… and he really does.