Comic-Con: The cast of Archer, FX's hilarious animated comedy, traveled from parts unknown to San Diego's Comic-Con to talk about the upcoming season. The problem was, they couldn't really talk about what would happen on the show.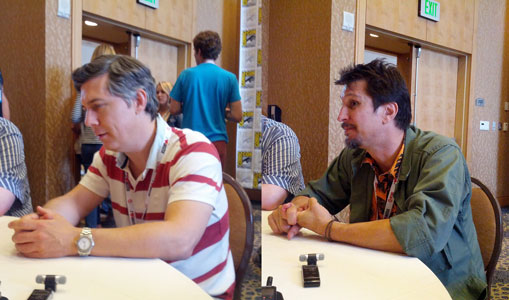 The series, that stars the voices of H. Jon Benjamin, Aisha Tyler, Chris Parnell, Amber Nash and Lucky Yates, is taking such a huge leap in direction that the cast didn't say much. Basically, from what PArnell said, is that the cast is "sort of doing the same roles." What does that mean? I have no idea, I'm as out of the loop as you are. But, that doesn't matter because as usual, they all were really cool to chat with.
The show, if you're haven't yet watched, revolves around the International Secret Intelligence Service (ISIS) and its employees who use covert operations and global crisis' as an excuse to undermine, sabotage and betray each other for personal gain. 
I did roundtable interviews with both Chris Parnell and Lucky Yates where they talked about the upcoming season,voice acting and more. Check them out below!
Chris Parnell
Interview highlights:
"You never know what [Series Creator] Adam [Reed] is gonna throw out at you."
Voice acting and how the cast all work from different cities (LA, New York & Atlanta)
His favorite shows and why Orphan Black was robbed of an Emmy Nomination
Lucky Yates
Interview highlights:
Talks about the show and his character, 'Doctor Krieger'.
His favorite 'Krieger' invention
He's the face model for 'Ray' and it's weird to watch