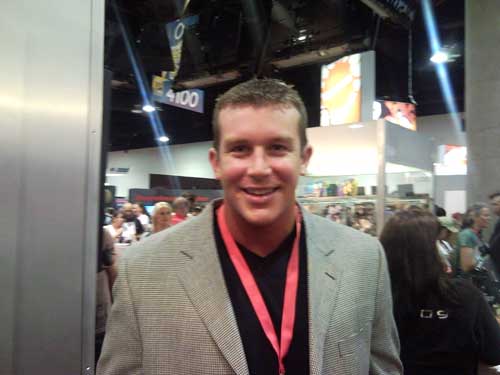 Ted DiBiase Jr., son of wrestling legend Ted "The Million Dollar Man" DiBiase, has followed in his father's footsteps in ring, but he's now about to break out of his dad's shadow by making his film debut in The Marine 2.
At the time of the interview, he had only been wrestling for a year. Seven months into it, the WWE came to him with The Marine 2.
What's the big similarities between wrestling and acting?
Well, what we do it's a lot of physical activity obviously, but it's an entertainment industry. That's what a lot of people don't really understand.  We don't consider ourselves a sport any longer.  It's just sheer entertainment.  So, you know, on TV, I play a character who's cocky and arrogant.  I'm considered a bad guy – a heel.  So doing the movie was actually a nice change and a challenge.  But there were a lot of similarities.  I mean, you're performing.  But the difference is, in wrestling, it's more over the top.  And you're there in front of a live audience as well as millions of people watching on TV.  So, you're performing for the live audience 360 degrees around but also the people on TV, so it's a little bit of both.  You get the facials [expressions]in there, but the over the top punches and stuff.  Whereas film I learned it's more right here [pointing to his face], it's close and it's a lot of less is more is what I learned.  It was great, man, it was a lot of fun.
This was your first big role?
First role ever. Yeah, it was the first thing.  I started with wrestling in May of 2007 or 2008.  And so I've only been doing this a year.  And 7 months into my wrestling career on TV, they gave me this opportunity to read the script and I did.  And I remember reading it and after I was done, they were like, "so how long have you been acting?" and I was like –
About ten minutes (laughter).
Yeah, about ten minutes!  I had just walked through the door.  I guess I had a knack for it.  I just learned as I went.  So, it's a lot of fun.
Do you think your eventual goal is to transition out of wrestling and then to be a full-time actor?
That's definitely a possibility, and I would never rule that out.  I love wrestling because I come from a history of wrestling.  My father, my grandfather were wrestlers.  Grandmother, too.
Wow, really?
Yeah, a lot of people don't know that.  But I loved doing this movie.  And I realized that it was something I looked forward to doing hopefully more of. Wrestling, too, but yeah if something happens, if I get hurt, if I can't wrestle anymore, this is what I'll pursue.
Now did you do all your own stunts in the movie?
Every one of them.  The only one I didn't get to do was jumping off the boat as it explodes at the end.  I wanted to, but they just wouldn't let me.  But ever fight scene, every punch thrown and getting hit, I did everything.  Jumping off buildings, getting blown up.  It was intense.
Is there anyone in particular whose career path you want to emulate?
That Rock, I guess.
Hey, I want to emulate him.
Absolutely.  He does such a great job.  He's so successful.  He's continuing to make movies that are great, that people love to go see.  It'd be a hard career path to live up to, but man, I mean if I could do half as good as that guy in the movie industry, I'd be very, very grateful.
Which do you like better, being on set being as full-time actor or the daily life of a wrestler?  I mean a wrestler, you're all over the country, right?
(Laughs).  Yeah, yeah.  It's hard to say. I mean, wherever I am, I guess.  I'm in that moment.  I love that.  Wrestling was my first passion, my first love.  Acting is still new to me.  I'm still learning and hopefully I'll have more opportunity like I said, but when I was on the set, I dug it.  Every second of it, I loved the comradery that you build with the crew and I think I had a little bit different attitude.  I didn't like going sitting in the trailer.  I liked being on set, watching how things worked.  I think as long as you're learning and it's still intriguing, that it's something that really excites you. I guess wrestling's my first love, but acting is slowly becoming right there – just as equal.
Did you have any say in the script?
I had a lot of input.
Were you like, I'm not saying that – that's stupid!
The first script – oh God it was terrible.  I think we rewrote it, there's no telling how many times.  And every day we were changing things.  And making it more realistic.  So, it really turned out to be an incredible film.  They did a great job with a little bit of money.  It's straight to DVD and Blue Ray coming December 29th.  But yeah, they did a great job.