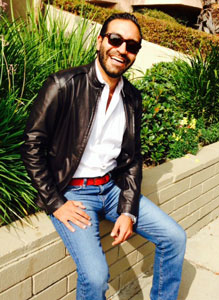 by Theresa Pickett
Iranian actor Alain Washnevsky moved to Europe when he was 2. After growing up in Vienna Austria, Alain started working in a real estate agency when he was 18 and at 20, he became a partner. As a world traveler, Alain is fluent in German, Farsi (Persian), English, and some basic French – a helpful and impressive skill for an actor!
In July 2011, Alain moved to L.A. and studied acting for two years in the Promenade Playhouse Conservatory in Santa Monica where he graduated in July 2013. Alain acted in three plays that received some excellent reviews.
Because I am doing publicity and public relations for the feature film Misogynist, which recently became an official selection at the Los Angeles Underground Film Festival, I crossed paths with Alain through a mutual acquaintance. Alain is credited for doing set photography on the movie Misogynist, and he was generous to offer an interview.
Theresa Pickett (TP): Do you prefer stage acting or film acting?
Alain Washnevsky (AW): Generally I felt more home on stage at the beginning- cause I´m naturally a "big" person. But now I´m focusing on film acting and I really love it.
TP: Do you have a project that was your favorite, or a favorite role you played?
AW: My favorite project was a play called LORCAbaret where I played the "Master of Ceremony."
TP: Can you tell me about your decision to move to the United States?
AW: My move to the US was definitely a big step and not really planned. But it was the best decision I've ever made and I really appreciate and love my new life. Acting was always a big dream since I was a child. But circumstances pulled me in other directions. Life is not always like we want it to be but its always as it should be. I don't regret anything that i experienced and I´m very grateful for whatever I have now.
I had a teacher who told me once, "Alain as an actor you have to have a life. Cause you want to tell people something about life. And the only way to experience life is by living it."
I got to a point where I felt the need to share with the world what I learned and went through in my meanwhile 35 exciting and sometimes crazy seeming years. Thats also one of the reasons I got into a toastmasters club and give speeches.
Besides the ocean, as I live in Santa Monica, one of the things I love about LA would be the opportunities. Hard work really pays off here, even it's a bit scary sometimes because its such a fast city. But I´m working very hard every day and good things are happening. Just follow your instinct and get out of your comfort zone – "I found my destiny on the way I was trying to avoid."
TP: Is the Los Angeles market harder to break into as an expat?
AW: Since I´m doing what I love I enjoy every moment of that trip. It's like a roller coaster. If it wouldn't go up and down it would be boring. I appreciate the highs as much as I appreciate the lows because these are the moments where you get to think about yourself and re check if you´re still on the right track. Of course, its painful sometimes, but pain is the touchstone of growth. So I´m very grateful every moment life has for me. I know I´m on the right path, and I´m exactly where I´m meant to be. Happiness lies not in things we want, it lies in things we have.
TP: Have you thought of trying to get into acting in other markets around the world?
AW: No I haven't thought about it so far.
TP: Do you have any upcoming projects?
AW: I'm working on a great project right now that I´m very excited about. I´m playing one of the main characters. We start shooting soon. Its a great story that connects to me emotionally and its a wonderful opportunity to work with an amazingly talented crew. I'm so excited to work with Navid Negahban, who plays my opponent and is known as Abu Nazir from Homeland, on this project. He is such a talented and experienced actor and a great inspiration to me.
Visit Alain Washnevsky's IMDb profile to learn more.