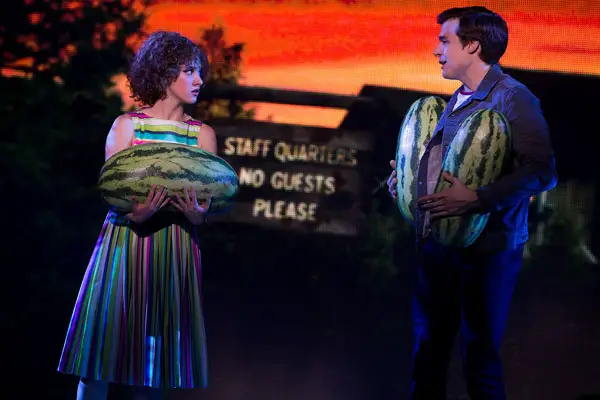 "Nobody puts baby in a corner." If you immediately knew where that immortal sentence is from, then you're probably going to want to see Dirty Dancing, the stage play (with music!) that's based on the classic movie. The show is currently traveling around the country that is probably coming to a town near you.
The story, as if you didn't already know, is set in New York's Catskill Mountains in 1963, where Baby and her family are on vacation. Baby, bored with the resort activities, stumbles on the staff quarters where an all-night dance party in going down. When she see's the fun and all of the crazy new dancing they are doing, she wants to join in… especially when she spots Johnny Castle, the resort dance instructor.
In the show, Doug Carpenter stars as Billy, Johnny's cousin. Or as he told me, "the guy with the watermelon." Billy does most of the actual singing in the play, which is good because Doug is a trained Opera singer. After getting his Masters Degree in Opera, he transitioned to Musical Theater, moved to New York and quickly started to book work.
I talked to him recently about the show, his audition, his advice to Musical Theater singers and what it was like being a gondolier in Las Vegas.
Dirty Dancing is playing in San Diego January 6th-11th. For tickets and more information, click here. Upcoming cities are Portland, Or, Seattle, WA and Costa Mesa, CA. For tour information, click here.
How long have you been on tour?
Doug Carpenter: Almost 3 months now, I think? Then we did like a month and a half of rehearsals before that. Yeah.
This is your first tour?
Doug Carpenter: This is my first tour, yeah.
How do you like it?
Doug Carpenter: I like it. I grew up in a military family, so the traveling and stuff doesn't really bother me a ton.
Tell me about the show. It's not a hardcore full blown out musical, right?
Doug Carpenter: Right. No, it's more of a play with music. The main characters don't sing. Obviously they dance. It's almost exactly word for word from the movie. But then a lot of the music is live and the singing is done by people from ensemble. And the character I play does some singing too. It's not quite so much the musical that Oklahoma sort of is, where the characters are singing their thoughts and progressing the story. It sort of a sound track in our show. But all the dancing and stuff is live and stuff too.
Who do you play?
Doug Carpenter: I play Billy, the guy with the watermelon.
Do you have a watermelon on stage?
Doug Carpenter: Yes, I carry three.
Now, is it the big oblong ones or those little round ones you see at Costco? What are they?
Doug Carpenter: It's the big oblong ones. This is before we genetically engineered them.
You sing a couple of songs, right?
Doug Carpenter: I do. I sing the 11 o'clock number 'In the Still of the Night' and then 'Time of My Life' at the end. I sing a couple other little things here and there. Those are my two big numbers.
So, Dirty Dancing. Are you much of a dancer?
Doug Carpenter: I don't dance. I do a little bit of dancing here and there and I sort of, you know, being bad at dancing at certain times during the show. But luckily I don't really have any real dancing, I would say.
When you went to audition did you actually want this character?
Doug Carpenter: Yeah, this is the one I was looking for because it's a singing role. I actually went in for this because my girlfriend, she's a dancer and she was being considered at the time and so we were going to try get on this together. It worked out that I ended up booking this and then she didn't book this, but she ended up booking The Met Opera, so we're sort of in the opposite fields.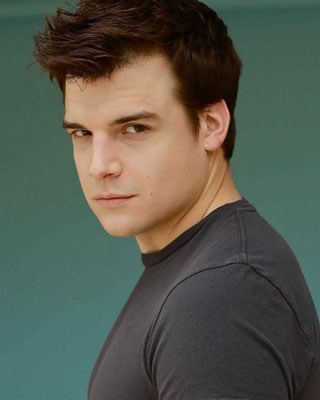 Nice. What was your audition like for this?
Doug Carpenter: It was a couple of tunes, sang 'In the Still of the Night' and 'Time of My Life' and a couple of little lines that they said they just wanted to see if I could get on stage and say a line and not look stupid. And then I did a little work with the music supervisor, and then I came and sang for Eleanor [Bergstein], the writer and creator of the play. And that was it.
Is it the first time this has gone on tour?
Doug Carpenter: No, they did a short form right as the financial crisis was happening. And they closed it down super prematurely. But they did 3 cities and then they didn't do very well, obviously because everything fell apart.
How are the audiences for these? Are they super excited to see the show?
Doug Carpenter: Yes. It's sort of like Mama Mia. You know what I mean? It's similar to that sort of following. And I would say the appeal is sort of similar. I mean, it's a fun show, it's a good time, it's like all of your girlfriends going out and it's a bachelorette party. It's a shared nostalgia of the movie, that sort of Rocky Horror Picture Show sort of thing. People say lines along with you at times. Hooting and hollering at Johnny. We've been selling incredibly well to be honest. And it's a good show, to be honest. It's not trying to be anything it's not, which is kind of lovely.
You're also an opera singer. How did the transition come about for to opera singer to musical theatre?
Doug Carpenter: Well, I did my undergrad and Masters in voice and that's obviously an opera focus. But I'd always been sort of interested in other styles and so I sort of dabbled here and there in it. I did some competitions and won some competitions that are all about sort of singing in different genres as well as classical. And in my Masters, I sort of realized I didn't have a real passion for opera and I just wanted to really tell a story while I was singing. And so I just sort of transitioned into musical theatre.
And all the technique and stuff is basically all the same. There's some little things, but for me it was a natural transition except for to try and pick up the dancing and getting better at my acting and stuff like that. But that's, you know, something I think everyone is sort of struggling with. I was lucky in that I had a skill-set that was unique and desirable I guess. That's why it was not too hard for me to transition.
You're based in New York now?
Doug Carpenter: Yeah.
Do you like living there? You went from LA to Vegas and then I think back to LA?
Doug Carpenter: Well, my dad was in the military and then we finally ended up in Vegas and then I went and did my college right after high school in Vegas. And then I went to LA and did my masters and started my professional career there. I did 3 years of the regional circuit in LA and moved to New York.
SoCal is sort of where I want to end up, that's always been my dream, but as you know you sort of start to run out of places to work in Southern California. And also, the work is all subsistence sort of living and I'm looking to make a career. Ultimately I want to teach and so I know I needed to get to Broadway and try and get some credits in order to build up my resume. But I don't really love New York, to be honest. It's not really my speed. I love the sunny weather, I like having space and I don't like being crowded. I just wish we could move Broadway to LA or audition in LA because that's what I'd like. And it's just so expensive in New York for no space. It's pretty miserable for me.
I think there are sort of two different kinds of people. There's LA people and then there's New York people. Some love that sort of go, go, go struggle, but that's not for me. We always talk about moving back to Southern California like basically every day. Me and my girlfriend are always just like, "Wow, we've gotta get back there," but it's hard when you're trying to make a career and see how far you can go.
It sounds like you both are doing well though.
Doug Carpenter: Yeah, yeah. We're doing pretty well for ourselves. Unfortunately, success in this business often means that you're sacrificing your personal life, as you know, and you sacrifice a lot of other things in order to do something you love and have success and financial success, certainly.
How long are you contracted on this tour?
Doug Carpenter: You know, I have the option at February… it's a 6 month contract and then after that I can make the decision what I want to do. So we'll see. I don't know yet, to be honest.
I saw that you used to be a gondolier at The Venetian?
Doug Carpenter: Yeah.
How was that?
Doug Carpenter: How was that? You know what, I've been really fortunate that I've been able to make almost all the money I've made in the performing realm, and that was sort of the first real job that I got doing something. It was great. Being in high school and then being in college and making good money, performing. It was a good place to sort of like hone your craft and sort of just kind of have a good time.
It can be a grind. It's sort of a bizarre job, you know what I mean? You row your gondola in the middle of the desert, but I couldn't imagine having a better job for that time in my life. It was awesome.
You're singing for what, 8 hours a day?
Doug Carpenter: Yeah, I think that's one of the great things about that place was it really taught me how to sort of preserve and how to use good technique because you're outside, you're in a mall. If you're singing poorly and using poor technique, you just can't get through a shift. And trying to be outside, it's pretty brutal. But you either sink or swim.
Right now, what do you do to sort of keep your voice in shape?
Doug Carpenter: For me, I've been dealing with some really bad acid reflux. I got on the tour and I was struggling for a little bit. But it's the same thing you do everywhere. It all starts with good technique, obviously. I've been really lucky because I have all these opera degrees and I teach now. But it's sleep and it's not partying crazy, it's knowing how to pace yourself through the show and not just try and kill it every night. You've gotta know how to do a show 8 times a week, right? You know that. I feel like I'm a throat coat addict.
You said you're also a teacher. Is it singing, is it acting?
Doug Carpenter: Yeah. My focus is in singing, but my dream is to sort of do both and to sort of serve both ends of that. Teaching song interpretation and acting and sort of performing a song. And then obviously sort of pure vocal technique is sort of what my main focus is right now, at least.
I'm sort of in the middle. I'm an excellent technician for anybody who's not a professional opera singer already, and then I'm a good acting and interpretation for anybody who's not a pure sort of actor. Professional singing actor. I don't know what the word is. I straddle both of these realms.
When you teach your classes or teach one on one, what is the biggest piece of advice you find that you always give to musical theatre singers?
Doug Carpenter: Musical theatre singers, the biggest thing I find with musical theatre singers is that they don't have a good sense of support, breath support. And I know I spent a big time in my masters not understanding how that really works.
The problem is that, it's the same with acting teachers, that there's so many people out there sort of who just do it. You know what I mean? They're just sort of telling how they do it. So they don't have a very clear understanding of mechanics.
So most of the time what I'm doing with musical theatre people is I'm just starting from the very beginning and giving them the building blocks that they had sort of glossed over. They've been getting a lot of coaching, which is a lot of times taken as actual voice technique. And just going back and trying to get people hooked up to their voices.
So much of singing now is just pop and rock stuff, and so there hasn't really been a focus on real classical technique.
And the other thing I'm doing as far as performing is trying to get people neutral, you know what I mean? Most of the time everybody is trying to do too much. You know what I mean? They're not sort of just getting in themselves, being still, finding stillness, and then just telling the story. Rather than trying to choreograph their numbers and flop their hands around. I know I was the same way, but if you can just stand there and sing the song and tell someone and really mean what you're saying and see the things that you're talking about, you're already way ahead of the game.