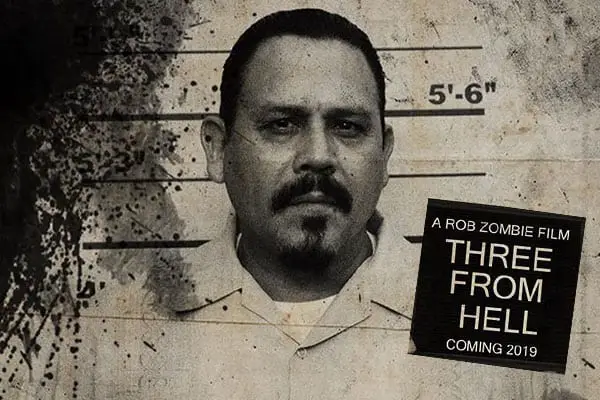 Emilio Rivera is a man out for revenge in Rob Zombie's latest horror film, 3 From Hell, a sequel to 2005's The Devil's Rejects. The actor, who's also starring in Kurt Sutter's Sons of Anarchy spin-off, Mayans M.C., jumped at the chance to work with the director, "I really want[ed] to do a Rob Zombie film," he said.
In this interview, Rivera talks about his role in the film and on Mayans, his biggest pet peeve and the advice he gives to young actors.
This film, it reminded me of those old '70s horror films. It was crazy.
Emilio Rivera: That just makes it look more real, brother. You know what I'm saying? So, I dig it.
You play a guy named Aquarius. Can you tell me about him?
Emilio Rivera: I play the leader of a gang, a very vicious gang. They take out someone that's very special to me and I come back for revenge. I'm up against some of the worst people in the world, these guys are ruthless, you know? They do find out who I am and then I find out who they are as well. It's pretty cool.
Is it kind of fun to go all out and play this sort of over the top violence and craziness?
Emilio Rivera: It's the best, bro. It's stuff we did when we were kids now we get to do it for fun. It's just that it's a lot better now. Do you know what I'm saying? And Rob Zombie, he's the best. I say, "Rob, I want to try this." He goes, "Go ahead, buddy." He let me do a series of stuff. He's such a great director.
That's got to be kind of cool and liberating too, you know.
Emilio Rivera: It really is. Of course, we have a sense of what they want and then we do that already. Now, let's just have fun now. They're such cool people to work with, man.
How did you get involved in the film?
Emilio Rivera: He actually called for me and they made an offer. I think I was working on something else and I told my agent to work it out because I really want to do a Rob Zombie film. Plus, I loved Devil's Rejects.
What makes a true horror film is when you actually have people that actually probably exist. You be afraid of Frankenstein or Dracula, those are stories. But these people, they're out there.
I want to talk about Mayans M.C. real quick. Your character, he's got a different look now. You're in a suit in this film and you're in a suit a lot of the time in Mayans. You look very slick, man!
Emilio Rivera: Thank you, my brother. Thank you. I guess it's time for a change. You know what I mean? I'm digging the suits because we work a lot, it's brutal because it's really hot. So, it's a lot cooler temperature wise wearing the suits. I miss the motorcycles but I got the best of both worlds.
When did you find out that you were going to be coming back for this show?
Emilio Rivera: Kurt called me and said, "Hey brother, let's go have some lunch." He goes, "Hey man, we're going to do it." I said, what? "We're doing the Mayans M.C." Six months later, here we are. It was a very pleasant surprise.
I bet.
Emilio Rivera: The writing and the actors they hired to portray the characters are amazing. I'm so proud of them.
How prepared are you when you get on set? Do you know everything that you're going to be doing… all your lines and things like that?
Emilio Rivera: I'm very anal about that, brother. That's just part of my training when I was doing theatre. I always want to be ready because that way you know what you're doing. I will always be ready when I go on set. That's just a pet peeve of mine. When I'm not ready, I'm just really pissed off at myself, you know?
Finally, what's been your worst audition?
Emilio Rivera: My worst audition? Aw, man. Wow, that's a big question, bro. I guess the time I wasn't prepared. I was given a chance for a great role and I was going through some other stuff in my head. I had four days to prepare and I literally started preparing the day before and I was nowhere, in no way ready.
That's what I tell young actors, if you're not ready to go in, do not go in. Because sometimes that first impression could be your last, if it's not good.
I really wasn't prepared and there was so many people counting on me. I felt bad. I won't say what show it was. But, be prepared.
For tickets and more info on 3 From Hell, click here.