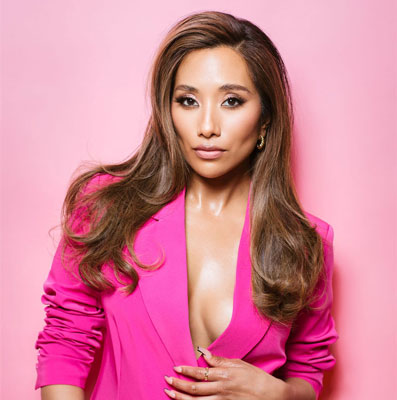 Donna Benedicto is a Filipina Canadian actor born and raised in Vancouver, BC. Growing up as an ethnic minority, Donna decided to make a switch from full-time singing to pursue acting in 2013 because she saw a gap in Asian representation. Since then, she has gone on to become the first Filipina lead in multiple TV movies, including the film, With Love and a Major Organ featured in SXSW, Incendo's Farmer Seeking Love, as well as guest starring on NBC's The Good Doctor, and booking recurring roles on CW's Supergirl and ABC's A Million Little Things.
You are the first Filipina actress to lead a movie in Canada. How did this come about? What is the significance of this for your career and for other female actors who are Filipina or Asian?
Donna Benedicto: I scored my first leading role in 2020 when the entertainment industry was experiencing a surge in demand for diversity, fueled by the Black Lives Matter movement and the pandemic. Thanks to an increased awareness around the issue of representation, it was the first time in my career I was seriously considered to lead a movie. Since then, I've been fortunate enough to lead in three other movies, and there have been other full Filipino female leads in Canada.
 You paved the way and now a door has been opened for others.
Donna Benedicto: Yes! I hope that my success inspires other Filipino/Asian actors to dare to dream beyond what they see in the industry. When I first started acting in 2013, I thought that a supporting role in North American film and TV was the most someone like me could aspire to. Though I'm beyond grateful for those opportunities, I couldn't have imagined that 10 years later, I would get to be part of the movement towards greater representation and inclusion. Now, I feel that it's important to continue pushing for more diversity in all aspects of our work, from casting to storytelling. I'm optimistic about the future and looking forward to seeing more of my dark-skinned Southeast Asian sisters and brothers on screen!
This past year, Dolly De Leon became the first Filipina actress to be nominated for a Golden Globe. Did you see Triangle of Sadness – if so, what is your response to her performance?
Donna Benedicto: Yes, I did see "Triangle of Sadness" and LOVED it! I was captivated by Dolly De Leon, she brought a level of nuance and emotional depth to her character that made me want to instantly rewatch the film. It was so powerful to see her portrayal of a Filipina woman who struggles with morality and is not another two-dimensional immigrant stereotype. Her nomination not only validates the abilities of Filipino actors, but also that Filipino characters have a place in the current landscape of film. Dolly De Leon has sent a powerful message to audiences and filmmakers that we are just as capable and deserving of leading roles as anyone else.
Is she someone you respect as an actor or would like to work with?
Donna Benedicto: I have immense respect for the talent and hard work that it has taken her to achieve this milestone, and of course it would be a dream to work with her!
This awards season was dominated by stories about unheralded, overlooked and disregarded women—such as Michelle Yeoh's middle-aged immigrant Chinese woman at the center of Everything Everywhere All At Once. Does Yeoh's historic Oscar win mean anything to you personally?
Donna Benedicto: I've watched and admired Michelle Yeoh on screen for decades! Her win means the world to me in several ways. An Oscar provides hope for future generations of Asian actors, writers, and filmmakers, in a way that I did not have when starting my career. It's a testament to perseverance and change, and a collective triumph for all of us who have been fighting for greater representation in the film industry. Hollywood has also consistently failed to recognize Yeoh's many mind-blowing performances, so it feels fitting to see her finally celebrated as the similarly hardworking and underappreciated character of Evelyn Wang in "Everything Everywhere All At Once". This Oscar means so much for Asian representation in Hollywood, and we are one step closer to having our voices heard and our stories told.
Do you think having two Asian Oscar winners in the acting categories will lead to any change in the industry in terms of representation for Asian performers?
Donna Benedicto: Absolutely! It's a monumental achievement, and though it's long overdue, it is a clear indication of a shift in the way Asian performers are seen. This dismantles barriers that have held us back for so long, leading to more and more opportunities for Asian actors to prove their place in the industry.
I think that this moment is just the beginning of a larger movement in cinema. "Parasite" showed the world that Asian films have the gravitas for critical acclaim, while movies like "Crazy Rich Asians" demonstrated that mass market appeal can be achieved with an all-Asian cast. The Asian-led show "Beef" is number 1 on Netflix right now! I'm hopeful that the work of all those who have been tirelessly pushing to reach this point will be continued by the next generation of young Asian actors.
In the same Oscar year that an actress like Dolly De Leon breaks out in a film like Triangle of Sadness, it's ironic that a film like Tár portrays the cultural industry of a nation like the Philippines as a signifier for creative failure. Going by Todd Field's film, the only things a cultural luminary like Tár might do in the Philippines is play a cosplay convention and accidentally solicit a prostitute. Did you see the film? How can we make real progress when these images are continued to be put forth in mainstream storytelling?
Donna Benedicto: Yes, I did see the film and I agree that it's disappointing to see the Philippines being used to symbolize failure for a white woman. It's important for storytellers to take responsibility for the narratives they put forth and to work towards well-rounded and respectful portrayals of marginalized cultures. It's also crucial for viewers to hold the industry accountable and demand authentic stories, which comes about when they are exposed to more diversity. As we continue to support and uplift Asian artists, filmmakers, and performers, we are creating a more educated audience who will drive this change.
I do want to acknowledge that "Tár" was a well-made film and deserves merit for the themes it did tackle, including Tár's abuse of power, which she is ultimately forced to confront in a Philippine brothel. While it is unfortunate that the country is only shown in a negative light, I am hopeful that soon, enough progress will be made so that damaging portrayals such as this one can be understood as merely a snippet and not a fair representation of the nation.
What stereotypes have you had to overcome and defeat in your own career?
Donna Benedicto: I've been fortunate enough to not experience as many stereotypes in my career as I know others have. However, as a person of color with an ethnically ambiguous look, I have faced my fair share of challenges. Early on in my career, I was put on hold for a role in a friend group on a show, and the production team asked about my ethnicity. The role itself had no specific cultural background or family to be cast, and yet race was still a barrier. I was frustrated to imagine other roles likely out of my reach for the same reason, whether or not the production chose to be blatant about it.
It's important for our industry to understand that not every character needs to fit into a box, and that it's possible for people of any race or background to have relationships and occupy a wide range of spaces in society. I think that in order create the best work, actors need to be able to play a variety of characters and not be limited by stereotypes or assumptions based on our appearance. That's why it's crucial to continue to push for more inclusive representation in all aspects, from the stories being told to the people telling them.
2022 was a significant year for Philippine cinema. On top of De Leon's breakout performance in Triangle of Sadness, there was also Martika Ramirez Escobar's debut film Leonor Will Never Die, which has has been nominated for Best International Film at the Independent Spirit Awards. Are there any filmmakers you would like to collaborate with, or who you feel are underrepresented?
Donna Benedicto: Many, and I hope the list keeps growing! I'm so fortunate to have already worked with some amazing Filipino directors. I had the pleasure of collaborating with Kim Albright, who directed me in the feature film "With Love and a Major Organ", which recently debuted at SXSW. I've also had the privilege of working with X. Dean Lim when I was cast as an astronaut in an episode of "The Good Doctor". It was a huge step forward for Filipinos to see someone like me in a role like that, and I'm grateful to have been a part of it.
There are some incredible filmmakers out there who I would love to collaborate with, and one person who particularly excites me is Maritte Go, a rising Filipino American director. I enjoy performing in the thriller/horror genre, and I came across Maritte's film "Black as Night," which I found to be really fun and enjoyable, especially with its predominantly POC cast. I also appreciated the commentary on race issues that were incorporated in the plot, and learning that it was directed by a fellow Filipina put her at the top of my list.
I would also love to work with Jon M. Chu, the director of "Crazy Rich Asians." He was given the difficult task of breaking down barriers and bringing Asian representation to the forefront of mainstream media. He not only managed that, but also equated his Asian cast with sex appeal and glamour in a way that has never been seen in Hollywood before. I can't wait to see what else he accomplishes – I would gladly jump at a chance to be a part of it.
And of course, I have to give a shoutout to Martika Ramirez Escobar and Lav Diaz. Their recent work, "Leonor Will Never Die" and "Lahi, Hayop", respectively, have been receiving critical acclaim and recognition at film festivals all over the world. Their dedication to the craft and pushing boundaries in Philippine cinema is truly inspiring, and I would be honored to work with them someday.
Are you satisfied with the roles you are getting or is there a gap between how the industry sees you and how you wish to define yourself as an actor?
Donna Benedicto: I'm grateful for every single role I've played, and they've led me to where I am now. It was an honor to be the first Filipina to lead a movie for television, and I am proud to be part of the movement to break through beauty standards and stereotypes. However, I also aspire to reach a wider audience through bigger films, and to show that Filipina women can be seen as love interests and complex characters with depth. I want to explore characters that are multifaceted, flawed, and fascinating, and establish that Asians are screen worthy in any capacity.
Ultimately, my goal is to have a career that empowers others, especially those from underrepresented communities. By challenging and redefining the industry's narrow perspectives on race and gender, I hope to to inspire everyone to pursue their dreams and believe in their own potential. Since the beginning of my career, I've been lucky to work with people who believe in me and have pushed for me to be considered for lead roles. I hope to be in a position to similarly pave the way for future generations of diverse storytellers and performers.
Tell us about your training and how you prepare for a role? Did your process evolve as your career developed?
Donna Benedicto: When prepping for a role, I dive headfirst into the character's world. I start by reading the script multiple times to understand the character's journey, motivations, and relationships with other characters. My favourite thing to do is observe people in real life for inspiration. Once I feel I empathize and can be fully immersed as my character in every scene, I watch movies or shows with similar themes or characters. Sometimes this outside research will enhance my understanding or raise questions that I hadn't considered before. I then go back through the script and make any necessary changes to my thought processes and interpretations.
I've combined some formal education with practical experience to hone my craft. I'm a big fan of continually attending acting workshops and masterclasses to enhance my skillset, something I've done since starting acting until now. As my career has taken off, my process has definitely evolved. I've learned to trust my instincts more, take risks in my performances, and work closely with directors and fellow actors to create a cohesive story. At the end of the day, my ultimate goal is to honour the character and story while staying true to my own artistic vision. And I have so much fun doing it!
FOLLOW ON INSTAGRAM: @donna_b4real
Guest Interview by Adam Davenport. He is a member of the Screen Actors Guild, Actors Equity Association and European Film Academy.