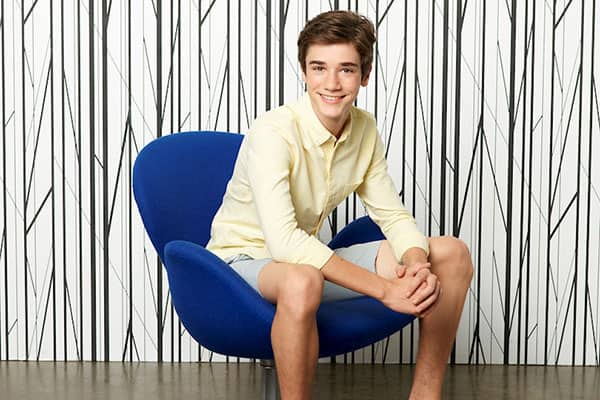 Daniel DiMaggio doesn't play a normal sitcom teenager in ABC's hit American Housewife. As Oliver Otto, he's a ballet-loving, and smart, go-getter. And if you've seen the show, he's perfect in the role.
In this interview, DiMaggio talks about his audition for the show, having to learn ballet and his advice for young actors.
What was your audition like for American Housewife? 
Daniel DiMaggio: I was 12. I went in twice before I went to the final network audition. There were only two other kids when I got there.
For your final callback, were you nervous?
Daniel DiMaggio: There were about 8 people in there.  Execs, writers, network people. They were all important, but I didn't know who they were. I wasn't really nervous, and I felt really right for the part. I read and that was it. I got it. Found out that day!
Ballet is a big part of your character's life. How much time did you have to put learn how to dance like that? 
Daniel DiMaggio: A few months before the first time I had to do ballet, I started getting lessons. About twice a week to start.
Are you still taking lessons?
Daniel DiMaggio: Yes. It's a good workout, and it kicks my butt sometimes.
You're acting every day and also have to keep up with school. Is it hard to do both? All while learning your lines for the next day?
Daniel DiMaggio: It's a challenge, but I've been doing it for a while, so I'm pretty used to it by now. Some days are easier than others, but overall, it's a routine that you get used to.
Your parents are both actors and writers, do they help you out when you have auditions or want to prepare for the show?
Daniel DiMaggio: Yes, definitely. They help me go over lines and give me ideas about different ways a line could be done, so I have some ideas about how I want to present it. They both know comedy, acting, and improv, so I'm lucky to have that right at home.
Do you have any advice for young actors?
Daniel DiMaggio: I'm still learning, but it's important to keep positive, know yourself, and be confident in what you're capable of.
What was your worst or most embarrassing audition?
Daniel DiMaggio: I went in for an audition, and I was reading the wrong script, so when I walked in I was in trouble. They gave me the right script, but I was rattled. I had prepared the other one, so it was a big mess. I was much younger, and it really upset me. I cried when I left. The lesson is to be prepared, and make sure you have the right material.
American Housewife (which also stars Katy Mixon and Diedrich Bader) on Tuesdays at 8 pm om ABC