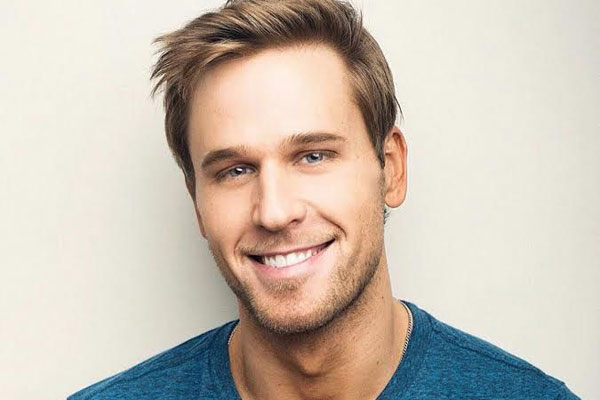 It's pretty good to be Dan Amboyer right now. He's starring opposite Sutton Foster and Hilary Duff in TV Land's hit show, Younger, and he just opened A.R. Gurney's latest play, Squash, at The Flea Theater in New York City.
Younger, now in its third season, threw Amboyer for a loop last season killing off his character Thad. But, the producers liked him so much, they created the role of Chad, Thad's twin brother. "I really appreciated that opportunity," he told me when asked about the switch in characters. "This character is a little closer to me than the original character," he added.
Amboyer chats about Younger, his audition for the show and playing a new character. He also talks about Squash, theatre, his time at Carnegie Mellon University and his worst audition ever.
Younger airs Wednesdays on TV Land. Squash is currently playing at The Flea Theater in New York City.
So, you have to excuse me because I'm in the middle of a show and I couldn't get to sleep last night so my brain is little fried.
Dan Amboyer: What show are you doing?
The Producers.
Dan Amboyer: Well, that's a busy show so I can imagine. Who are you playing?
Franz.
Dan Amboyer: Ah, that's a good one.
I'm definitely loving it. You're doing a show as well, right?
Dan Amboyer: Yeah, we're in our second week of rehearsal so we start previews in two weeks.
It's a play by A.R. Gurney?
Dan Amboyer: It is. Do you know his stuff?
Yeah, I did The Dining Room back in high school I think?
Dan Amboyer: That's so funny. I did it in middle school. I was playing like a 40-year-old and I was 13. I can't remember for the life of me what I did but I know what happened.
What's the show about?
Dan Amboyer: It takes place in 1975 and I'm a young English professor a sports enthusiast. Squash is my hobby, not the vegetable, the game. I have a wife and but one of my students propositions me, a male student, and makes it a little complicated for me. It's nice little three-person play.
How long is the run?
Dan Amboyer: We are going through Thanksgiving. So, it's a couple weeks of previews and then we open.
Plays are so different from the TV world where there's no such thing as rehearsal, so it's very different. I'm enjoying this process, you can actually have another shot at things. Like, "Oh, I get another day to try this scene again." I'm still enjoying that right now more than having four hours to the get a scene perfect.
It's got to be nice for you going from a full season of Younger and now doing a quick show. It's got to be nice for your brain to go back and forth to work those muscles again.
Dan Amboyer: Yeah. I grew up in the theater doing that. I got my first part when I was eight, it was just a hobby back then but it's what I grew up doing so it's really nice to be to come back and do it again. I miss it is like an old friend.
What was the last show that you did?
Dan Amboyer: Actually, it wasn't too long ago. I did David Ives, I did the premiere of his new play last year at the Shakespeare Theater in DC.
What's happening this season on Younger? You're coming back as your character's twin brother?
Dan Amboyer: Yeah, I am back as the twin. The first character, which was like the Wall Street, type-a guy. It was an acting challenge for me in the first place. To have a twin, all of a sudden became even more of a challenge. You just want to find an opposite to that first character and do something very different without trying to make it feel to charactery and put on. He's kind of the complete opposite, kind of a Greenpeace, hipster, granola crunchy kind of guy. I pictured him as always kind of living in the shadow of his brother. It's fun. It's fun writing.
When you heard that your character was gonna die, do they tell you right away?
Dan Amboyer: Darren Star, he's the creator, he's honestly like an awesome boss. I got an email from him while we we're shooting this engagement episode last season, and I got an email during the middle of the night. I just woke up to do something or whatever and I saw an email from him and he said, "Hey, can we talk maybe tomorrow? Let's grab dinner." I was actually on a flight to LA in the morning and I'm like, 'My God.' When you get an email like that you know something's going down. That's not email you want to see at three in the morning. So, of course, I could not sleep. But he was great though because once we actually connected – and I had a shot or two before I went to meet him – he was like, "What do you think is going to happen?" And I said, "Well, I think we've all been feeling that something is going to go down."
He told me what was going to happen and I was like, "Oh, it's great that I get killed." And at the same time, he said, "But we don't want to lose you. So, we want to write this other character and have you back as his twin." It was really sweet and it was a special thing, especially coming from him, that they would do that. I really appreciated that opportunity from him and the writers.
I think after working on the show from the pilot to those two years at that point we had that conversation… What I love about theater is that it becomes a family and a group that you come to every day and go to work with. And when you have an opportunity to work on a TV show for a period of time it becomes that way too. So, the writers and producers, they felt like a family and so I really appreciated that they made this gesture.
You mentioned the challenges but will what was the biggest hurdle of playing basically a whole new guy?
Dan Amboyer: It was interesting because when Darren and I had that conversation, he was like, "Think about it. How do you want to make them different?" He actually told me before anybody in the cast knew that it was gonna happen just so I had some time to absorb it. So I could kind of play around with what I can bring to it and how we can make it different, which is great. So, I had some time to marinate it.
Honestly, this character is a little closer to me than the original character. It was a little bit of an opportunity to play an introvert or introspective kind of person as opposed to an exuberant outgoing, life-of-the-party, let's to 20-shots guy. That's not me. I'm more of the bookish type, so it was a good opportunity to pull things closer to me.
What was your initial audition like for the show?
Dan Amboyer: It was fun. I was actually surprised at first because my first audition was to just go in and meet Darren directly. Usually there's so many gatekeepers and players but he wanted to meet people directly.
It was actually, it was little bit stressful because it was the actor's nightmare. I was doing another play at that time and I was in dress rehearsal for that show and I was running to the Younger audition on my break. It was pouring rain in New York and I couldn't get a cab. I wanted to wear a suit for the audition so I was changing into a suit, wet, in the back of this cab. And I was late so I had to call my agent and be like, "Hey, I'm gonna be late for this." And there like, "You already have the last appointment." And so I got there and everyone was just sitting there waiting for me. You do not want Darren Star to be sitting there waiting for you. But he was so warm once I got into the room and he was so generous that it didn't feel stressful.
They had only cast Sutton at that point and it took a few weeks to match everybody up. I got the word on a Sunday of all days. Actors always wait for their phones to ring, you never think it's gonna ring on a Sunday.
You guys film in New York. How do you like living there is a full-time actor?
Dan Amboyer: I love New York. When I graduated from school, we did show cases in New York and LA and I really wanted to go to LA but some people there said, "You know, you have theater training, so maybe you should start in New York." It's just kind of become my home now. Of course, I'll go anywhere to do something cool but I'm kind of lucky to be able to work on a show that's based in New York. And it's great that there's a lot more stuff happening here. When I first got here, it was basically soap operas and Law & Order but it's grown so it's exciting.
How did you like going to Carnegie Mellon?
Dan Amboyer. Oh, it was awesome. I loved it. You know, we had great teachers but it was really about the group of people that was in your class. I double majored in musical theater and straight acting and my graduating class was like eight people. So, you spent 12 hours a day with those people for four years and they are my best friends still. You learn the most from the people around you and fortunately they were so talented and driven and hard-working that we all kind of spurned each other on to become the best that we could be. One of my classmates now has a Tony Award for best actress, so it was really great to be with those folks and work off of each other and learn from each other.
What was your worst audition ever?
Dan Amboyer: Besides showing up at the Younger audition wet and late?
Okay, here's one. Pretty soon after graduating, I was in New York and I had a callback for Spamalot on Broadway and it was for Lancelot. The Lancelot track, he has a lot of accents because he does multiple characters. So, there is Scottish, there's Cockney, there is upper-class British. And I just remember Scottish was not my thing at the time. You had to do all the sides just one after another and switch back and forth into these accents and I had an absolute meltdown of accents. I had to excuse myself because all of a sudden these foreign sounds start coming out of your mouth. Like, 'that is Australian, that is not Scottish.' It was my most comical audition moment. I think they probably enjoyed that. Looking back, I can find the humor in it.