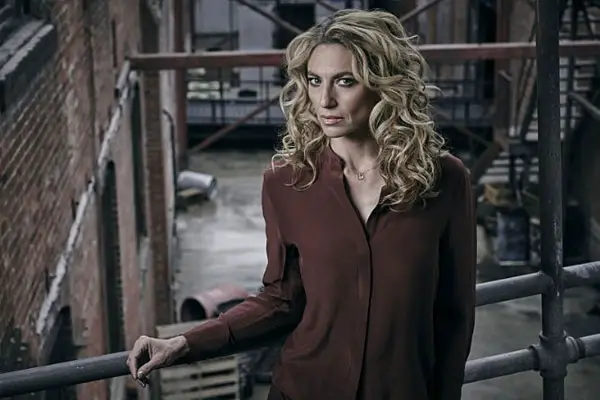 "A lot of my work is done by sort of gut and instinct. I just feel into it and I know what they want me to bring to the canvas" – Claudia Black
Claudia Black (The Originals, Farscape) plays Dr. Sabine Lommers in The CW's new series, Containment. The show, which also stars David Gyasi (Interstellar), Christina Marie Moses (Starship: Apocalypse, Starship: Rising), Chris Wood (The Vampire Diaries), George Young (Casualty), Hanna Mangan Lawrence (Spartacus: War of the Damned), Kristen Gutoskie (Beaver Falls) and Trevor St. John (One Live to Live), follows an viral epidemic that breaks out in Atlanta, leaving a large portion of the city quarantined and those stuck on the inside fighting for their lives.
Dr. Lommers is the Assistant For Health, Safety and Preparedness and she comes to Atlanta to oversee the containment of the outbreak and the cordoning off of the city.  In this interview, Black talks about how she got the role, the show and creating a backstory.
'Containment' premieres on The CW on April 19th
In containment, your character, Dr. Lommers, comes to Atlanta because there's a possible contagion outbreak. What did you do to prepare for the role and what drew you to the role?
Claudia Black: What drew me to the role was Julie Plec because I was already working for her on The Originals. And in pilot season, word gets around that there are certain pilots that are like the golden ticket to the Wonka Factory and Cordon, as it was named at the time, was one of those two or three pilots.
And it was extraordinary because my management team called and said, "Ooh my gosh, Julie Plec has this amazing pilot, it's hers, everyone's talking about it. You have got to get in and see her."
And sometimes it's hard to even get in the room to get an audition. If you really believe in something, you can self-tape or if you're out of town, you can self-tape. And I just happened to be working for her. We hadn't met yet and I didn't realize that she had seen my work, you know, the dailies and she was really enjoying what I was doing for her on The Originals. And she said, "Absolutely bring her in."
So they snuck me and just before my flight to go back to Atlanta to keep shooting on The Originals and it all happened very quickly. Pilot season, I forget how quickly it goes. So, I got on the plane, I started filming that day and by that night, I got a call from my managers saying they want to screen test you for the role.
So, in preparation – to go back to the other part of your question – I had been told by my manager that the show was based on a Belgian series and that he could send me some links to see the series. I could've watched all of it i I wanted to but part way through, I decided to stop because I was already in so into it and I didn't want to get attached to their version. And I just had this feeling that I was gonna be doing it. So I just stopped and I thought, okay, the lady who plays Sabine in the original series is very different from me but I could see the qualities that they would probably be looking for in the American version. And I knew that was something in my wheelhouse, that cold, hard matriarch.
It was an amazing time because they couldn't fly me back to do the screen test that all the other actors were doing together, so I think that most of them met on the same day at the screen test.
I was in Atlanta and I was on set shooting a night shoot on The Originals and they canceled the next day of shooting and declared a state of emergency. They were expecting huge snow to come into Atlanta and so, even though I had the day off, in order to do something for them in Atlanta, David Nutter, our director who was there at the time, I made my way in the car to meet him in what was declared a state of emergency. They were saying on the radio pack your bags for overnight just in case you drive somewhere get stuck, have some food with you. What have you.
So, I go to see David Nutter and they say, "So were going to tape you with David Nutter as if that's your screen test because at least you'll be working with the director and you be working with someone like that at the screen test." He just taped me and he was super sweet and I was in this really privileged position of having this special time with David. And we walked out of the studio where we ended up filming the series and the snow started to come down and I said, "Oh, I wanted to get some supplies before I get snowed in for the weekend." He said, "I suggest you go very quickly and do that and head safely home." So, the timing of that which is very extraordinary.
Are we going to get any more back story on your character?
Claudia Black: I was given very little and I think it's really interesting because the person who would actually perform this function for the US government is appointed directly by the president. He or she has to give the nod. And even though her official title is I think the Assistant For Health, Safety and Preparedness, she's the one on the ground.
She is so high ranking that if I were actually to sit down with the real person who has that job, there's probably very little she can tell me in reality. The things she seen, the things she knows… Maybe one day when she's retired maybe she will have a lot of stories to tell in her biography.
And I think Sabine is the same, she's mysterious because she can't give anything of herself away. She can't be personal, she has to be really clinical. She's like all those doctors that we grew to feel uncomfortable around who had terrible bedside manners and doctors had to evolve over the decades to meet the patient's needs. Even though they sign this Hippocratic Oath to sort of make the patient comfortable and really listen to them. Medicine has really turned a very dark corner over the years and it's now starting to sort of change but I think she's sort of from that very old system where she has to be extremely focused and because the stakes are higher for her than almost anyone else because if she messes this up, it's over for everyone, not just the city but possibly the world.
Do you create your own back story because if they don't give you any?
Claudia Black: Sometimes, that's a good question. A lot of my work is done by sort of gut and instinct. I just feel into it and I know what they want me to bring to the canvas. Sometimes it's been shocking, I've read an episode and there's a piece revealed about her and I'm like, "Well, I didn't see that coming."
And there's a classic line that they say about actors, you can't say as an actor, "My character would never do this." It's absurd because a character is a character, not a real person. So, being able to predict what they would do, there's a level of absurdity to it.
That said, there are certain things that a character stands for and there comes a time where an actor will have to say, especially a seasoned one, "This is not appropriate in terms of the storytelling. How can we shape this so that it works for everyone?" So, they say you have to fight your battles. But in this instance, I have been really surprised by the things that are sort of drip fed about everybody, the way the story is progressing.
I'm such a love bug and such a cheeky, sprightly sort of soul that not being able to be playful and not being able to expose more humanity is a challenge and it's a good discipline to have as an actor.
Was the character written as an American instead of an Australian?
Claudia Black: They were open to it. It's just that when they cast George Young they thought that there are too many Commonwealth accents already so I had to do the US dialect.