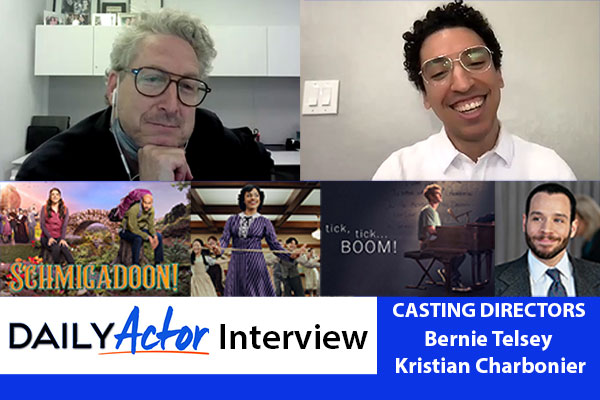 "It's mind-blowing and so exciting…. when somebody walks in the room, and they just show you things that you never would have thought of. And no one does that better than actors." – Bernie Telsey
From movies, TV and theater, the Telsey Office is hands down one of the best casting offices around. They recently hand their hands in casting American Buffalo, Beetlejuice and Into the Woods on Broadway and tick, tick…Boom!, This Is Us and Schmigadoon!, which just got picked up for a second season on Apple+.
Casting directors Bernie Telsey and Kristian Charbonier seemingly work non-stop finding the best actors out there for their projects and they – thankfully – took some time out of their busy schedules to talk about casting Schmigadoon!, the talents of Ariana DeBose and Robin De Jesus, what makes a memorable audition and self-tape and a whole lot more. For the full interview, check out the video below or on YouTube.
You guys cast some of the best TV, film, and theater. I just saw American Buffalo, which you guys had a hand in. Oh my God, it was great. But you guys do so much. How the heck do you find the time?
Bernie Telsey: There are 24 hours in a day.
Kristian Charbonier: And we make use of every single minute in those 24.
Bernie Telsey: But there's a lot of great people here. The Telsey Office is filled with many casting directors and associates, and it's a real wonderful team of people. So, it enables us to do a lot more projects, because there's a lot more people casting away.
Let's talk about Schmigadoon! Man, this cast. Every single person on that show is just supremely talented. When you guys got involved, was anyone already attached?
Kristian Charbonier: The one thing I always like to lead with in these conversations is that we did start this project pre-pandemic. [laughter] And then something called COVID happened. I'll let Bernie to take it from here on that one.
Bernie Telsey: What was great, Cinco [Paul], who is the creator and show runner, he's such a beloved Broadway theater fan and knowledgeable of all of the talent. So, he had people in mind for a bunch of the roles, but we really did start from scratch. Of course, Cecily was set 'cause it was built around her. So, she was all set, and then the rest we were all just doing lists, and I think Fred Armisen was also set 'cause it all came from Lorne Michaels' company. But then we were doing lists and for all the other parts, there were conversations and collaborations between us and Cinco and the studio and Lorne and Barry [Sonnenfeld], the director.
Kristian Charbonier: And while there's really not too much good to come out of COVID, the beauty of this process is that we were able to attach all these Broadway people who were certainly booked right before the pandemic and would have never been available to do this, so that was the joy of doing this as well. Obviously, working on a musical is always a joy, but attaching these people who technically could have never been available.
Bernie Telsey: It literally was the first thing that was shooting during the pandemic, but because Broadway was still shut down specifically Aaron Tveit wasn't in Moulin Rouge… And they knew they weren't gonna be open during those three months, 'cause Schmigadoon! was also a tight schedule. Same thing with Kristin's concerts that she was doing, so we were able to really get people because of the pandemic, I guess, thankfully. [laughter]
Kristian Charbonier: Yeah, and not even just the principal casts as well, all of the ensemble, some came from the US, some were rounded out through our amazing local casting of people, but most of those people are also always working in the theater world in Canada as well, and were not working because there wasn't theater at that time. So, it was very nice to employ all of those people who certainly were employed pre-pandemic, and because of pandemic were not employed. So that was something that was really exciting about the process as well.
What were auditions like? Because COVID was happening, was it a normal musical theatre audition, but on Zoom?
Bernie Telsey: Yeah, I mean, we were doing self-tapes for some, and then, yeah, it was on Zoom. When I think back, Aaron Tveit was on Zoom and Ariana DeBose was on Zoom and Dove Cameron was on Zoom. And yeah, it was all on Zoom.
And sometimes the singing that you can't do live on Zoom, so that would be pre-recorded, meaning they would either have sung something on a self-tape. Or in this particular case, we can show them some of the other projects that Dove sang on, or Ariana sang on, or Aaron sang on. It was less about the singing audition as it was about the reading and all of that kind of stuff. But then the dance auditions, the whole ensemble that was all done. Kristian remembers that.
Kristian Charbonier: Auditions were really something that I truly will never forget. It was our associate choreographer Lou Castro with a Britney Spears mic in a dance studio in New York and him calling out the choreography, and then people in Canada quite literally in their living rooms, like dancing around their living rooms.
Seven people at a time, we would say, "Okay, turn your camera on now,' and that's how we could just tell that person was the person in the yellow, because of course, you're not in the room, so you can't really tell who is who at that point. It's amazing how everyone just fully leaned into it and jumped right in and agreed to go into the unknown in terms of all the auditioning, but yeah, everything was completely via Zoom. Because Bernie said at that point, this was still very, very early on into the pandemic.
Bernie Telsey: People weren't leaving their homes.
Kristian Charbonier: Yeah, everyone in Canada was in complete quarantine. Everyone who was coming from the US was in a two-week quarantine, so it was all insane.
I feel like you guys were the ones who were able to introduce Ariana to the masses, because quite frankly, I don't think I'd really seen her until I saw the show.
Bernie Telsey: Right, because Westside Story hadn't open yet. She had shot it.
You guys had already cast her in some stuff prior to that. Was on the original list of actors to bring in?
Bernie Telsey: Yeah, we've known her from back to the days when she was doing ensemble on Broadway from Pippin. We put her in Hamilton. Bring It On even before those, so we've known her. And that was a role when Cinco and Chris [Gattelli], the choreographer, could tell you… Chris knew who people were, 'cause he's in the Broadway world, but Cinco or even the studio, it was like, "We need a leading lady who is a triple threat dancer." And they're not gonna know who all those people are. It was great for us to say, "Oh, she's gonna be starring Westside Story," but it doesn't mean they knew who she was if they didn't see her or remember her, in those ensembles. Because you're right, she hadn't had a featured role yet.
 Kristian Charbonier: Besides Donna Summer, it was all really very featured ensemble stuff.
 Bernie Telsey: Right. She had Donna. So, Chris knew her dancing, 'cause he'd seen her obviously for Broadway shows, but then she came in and read for everybody else, and it was a no-brainer. She was perfect.
What makes an audition memorable for you guys? Because with Ariana and Robin De Jesus, who was fantastic in tick, tick… Boom! you kept on bringing them back and back and look at them now. What made you want to keep on bringing them back?
Bernie Telsey: It's a good question.
Kristian Charbonier: You have to tell the Camp story first to talk about how long we've actually known them.
Bernie Telsey: Robin, we met at an open call for the movie Camp. I don't know if you know that movie from way back, but if you've never watched it, you must… But Camp was written and directed by Todd Graff, which was based on… Not French Woods but what's the other camp?
Kristian Charbonier: It's not French Woods. What's the other one?
Bernie Telsey: It's where these 12-year-olds were doing Pacific Overtures, or like things that you would never normally do at a summer camp. And it was a low budget movie. There was a non-SAG movie at the time, and we found Anna Kendrick and Robin De Jesus before they were a card holding members.
But Robin is just one of those people because he's so good, and he sort of hides behind a role in an odd way, so you just know that he's gonna be that guy in La Cage Aux Folles or In the Heights or any one of these projects. But you keep bringing them back 'cause you just remember him. And certain people you remember because it's star quality, and who knows what that even means, but Robin or Ariana, they just keep nailing it and keep doing the work and keep making choices and really pop.
They take the material that you're giving them and they really fulfill it, and they make whoever is making these decisions with us, feel like they're seeing that character or seeing that world become and that's what auditions are all about, it's like how to do a whole performance in 10 minutes or how to show the room that you can breathe and live this role that someone in their head imagined, and they both are people who just do that all the time.
Kristian Charbonier: And in terms of a project like this, all of these auditions are so memorable because it is so stylized and so specific, and those people who hit those marks of what that style exactly is… sometimes that style becomes what that person does in the audition. They make so much out of it, that it becomes the style of their character and the style of the piece.
Specifically with both Robin and Ariana, like Bernie's saying, they're both just so unapologetically themselves too that, that's what makes them pop so specifically. Robin in tick, tick… Boom, we saw so many people read that, and he just brought that very specific light to it, the same way Ariana did with that perfect smile in that number that she sang in Schmigadoon!
It just makes total sense once you see it, but it happens in the room simultaneously, you see that and you say, "Okay, well, that's what it is ultimately," which is always so exciting to see that moment happen time and time again.
You mentioned self-tapes, what makes a good self-tape?  
Kristian Charbonier: I think a good self-tape is honestly just the same thing as a good audition. When someone has just a very clear and concise vision of what they think the piece is and what they think the character is, I think that's what makes them pop so much. It might not be the right idea sometimes, but at least there's a very specific choice made there that really makes you respect the work that that person has done ultimately and especially in this time now of self-taping where there isn't this constant feedback of coming into a room, and saying, "I love that choice, but let's try it this way."
Seeing that someone just makes a choice and a very specific choice, I think is the key in self-taping because it makes us see that tape and say, "Hey, that might not be right, but now I wanna get on a Zoom with you and work with you, 'cause I love the work that you did, even though I know that that's not tonally exactly what the creative team is looking for. I just respect so much of your work just by doing exactly what you did on that tape that… Why not get on a Zoom with you and work with you a little bit more and kinda get it to where it needs to be for this specific piece?"
For demo reels and clips, what do you prefer to see right now? A two-minute demo reel with a bunch of clips, or a longer one-minute piece with a certain character type that might fit the role you're looking for?
Bernie Telsey: I don't know. If an actor has tape and an actor has a reel, send it. And I think it's too hard for them to try to edit, "What should I send that is the thing that Kristian or Bernie or whoever may be looking for?" It's like, "Let us do the work." Whether they have an agent or not, send it all because it should be our job to figure out what is the best piece on this reel that we show our director. Yes, it does need to be edited down to what we show directors or producers because they don't have the time. And they need to only watch the thing that is most representative to the role that we're trying to cast. But I feel the actor shouldn't try to figure that out. I'd rather them send me everything they have and I'll do it.
Kristian Charbonier: Yeah. And exactly what Bernie's saying, something that we are all very used to is the idea of editing down. And the actor might think, "Oh, this isn't really useful to what this piece is, or what this role is." And we might think, "Actually, it might not lend itself to be what this piece or this role is. But it just shows a very specific side of this person that you might not see from the audition. So, we should share this just so that the creative team sees this different color on this person."
What advice can you give actors, either audition-wise or when they come into your room?
Kristian Charbonier: The thing that I always lead with, which is quite broad, but I truly, truly mean it every time I say it, is the idea that we are so on the actor's side at all times. We're the actor's biggest cheerleader. That person is in that room or taping for that role for a very specific reason. And it's because we see that that person could potentially be the person to play that role. I think that gets lost in translation sometimes. But we are the actor's biggest cheerleader. That's something I always lead with, the idea of, "You are there for a reason. We've called you in for a reason. We've asked you to tape for a reason. So, know that we are absolutely on your side and want you to get the job."
And the other thing that I always lead with is the idea of preparation. So much work goes into an audition. And the only way I think the actor can feel the best about their audition is when they're just like the utmost prepared. And so, I always tell them, "The most you can do for yourself is to prepare yourself because once you leave that room, that's it. You can't really do any more work than the work that you did once you stepped in there. So, you might as well set yourself up for success. And enter that room as prepared as possible to be able to do everything as best as possible."
And then once you leave that room, you can tell yourself, "I did everything I could. I couldn't have done anything more. So now it's up to the universe to let it happen."
Bernie, I saw that, and I don't know if this was right, but you were on an episode of Guiding Light back in 1992?
Bernie Telsey: I was a recurring character. [laughter]
Can you tell me about that real quick? Were you acting back then?
Bernie Telsey: Oh yeah, why not? Oh, yeah, I played a shitty gossip reporter who is always lurking behind a tree, ready to report on what these people were doing in town. It was horrible. I was a press hound, trying to get the scoop, and then writing about it. So, I was always lurking. It was crazy, but it was a fun role.
Kristian, have you ever seen it?
Kristian Charbonier: I have never seen it. But I always like to tell the story that I am here today because of Bernie Telsey's starring role in The Search for Elle Woods on MTV, which was a series that they made about finding Elle Woods. And that's why I'm here today. So, Bernie Telsey's on-camera career is certainly just as good as his casting career as well.
Alright, my final question, what's your craziest audition story?
Bernie Telsey: It's never because of the actor. It's because of the creative team. That something will happen and it'll be like, finding out information that we never knew about a certain role. So, like finding out at the witching hour that this person also had to tap dance. Without giving you specifics. But those kinds of things have happened. And it's like, "Oh well, we never knew that." Because we're not in those meetings. And now we're quickly having to change the breakdown or bring in different people. But there's never that myth of the wackadoodle story because it's hard enough what actors have to do to make a job interview based on this tiny audition. So, my heart goes out to them.
Kristian Charbonier: And on the flip, exactly what Bernie's saying, the countless times that someone has been like, "Do you know this song?" And they're like, "I don't have the sheet music. And I haven't sang it in like six years. But I can try." And then they'll sing the entire seven-minute song perfectly. And you're like, "How did that just happen?"
Bernie Telsey: Right, right, right.
Kristian Charbonier: That happens countless amount of times. It's just fascinating what they can do. Or for example, they'll say, "We have this other scene. It's like five pages. Do you mind just looking at it? You can hold it though, it's no worries." And they'll just say, "Oh, I'll take 10 minutes and I'll come back in." And they come in. And there is a fully developed performance of this scene that is five pages long.
Bernie Telsey: Yeah, that's when you say the craziest story, is when you are so blown away that you feel like you just watched a performance. And you can't do anything but try to make sure that person gets cast. You know what I mean? It's the complete opposite of what one would naturally think. It's mind-blowing and so exciting when that happens, when somebody walks in the room, and they just show you things that you never would have thought of. And no one does that better than actors.