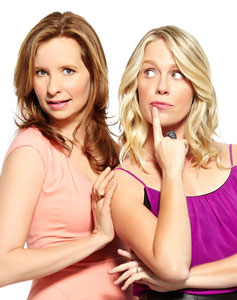 Jessica St. Clair and Lennon Parham star in NBC's new series, Best Friends Forever, a show about old friends, new beginnings and awkward situations.
The two star, created and co-write the show about best friends who live on opposite sides of the country. When Jessica is overnighted divorce papers, Lennon convinces her to return home to Brooklyn and back into the apartment they used to share. It doesn't take long for the girls to fall into old habits: movie marathons and late night girl talk sessions – none of which is good news for Lennon's live-in boyfriend, Joe (Luka Jones, Upright Citizens Brigade) who tries to be understanding but begins to feel like a stranger in his own home.
Jessica St. Clair performed at the Upright Citizens Brigade Theater in New York and Los Angeles, was in the hit Bridesmaids and was last seen in Wanderlust. On television, she's starred opposite Megan Mullally and Cheryl Hines in In the Motherhood and has had guest-starring appearances on Parks and Recreation, Weeds and United States of Tara.
Lennon Parham is perhaps best known for playing the supporting role of Abby Chase, alongside Jenna Elfman on the television series Accidentally on Purpose. Some of her other guest roles include Parks and Recreation and How I Met Your Mother. Parham is also an alumna of Upright Citizens Brigade (UCB) Theater where she performed for nine years. Her one-woman character show, "She Tried to Be Normal," ran in New York and Los Angeles and was selected for the Montreal "Just For Laughs" festival in 2009.
I talked to both Jessica and Lennon in a conference call recently where they talked about the show, how the work may, in fact, kill them and their time at UCB!
Best Friends Forever airs Wednesdays at 8:30/7:30c on NBC
How did you initially get involved with this show?
Jessica St. Clair: Well Lennon and I met about 10 years ago at the Upright Citizens Brigade Theater in New York.
Lennon Parham: We we're doing improve comedy back in the day. We were on separate teams. And then we both came out to LA for various and sundry acting gigs. And we sat down one lunch and it was love at first sight essentially, came up with our first television idea.
Jessica St. Clair: And we wrote – before this, we wrote a pilot for HBO that was similar scene. It was about best friends who where you know so in love with each other that perhaps they are having trouble making other friends. And then we – went that didn't go to pilot, we ended up pitching to NBC a version of the show in which we – one of us was moving back in with the other one. And finding that they had – have a live-in boyfriend now that we have to deal with, so that's how sort of that came about.
But Lennon and I have been performing together for about 10 years now.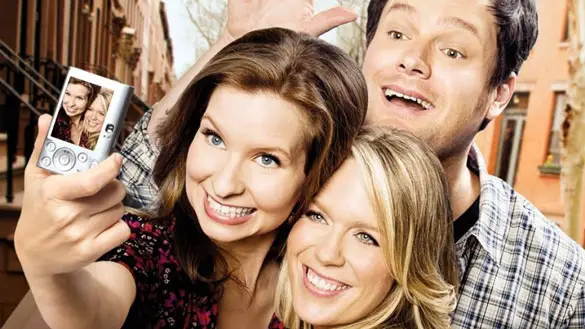 What were some of the biggest challenges for the 2 of you in bringing your characters to live on screen for the show?
Lennon Parham: Actually the process for us has been pretty seamless because we are drawing from our real experiences as bet friends and sort of getting inspiration from our relationships with our other best friends.
Jessica St. Clair: I think the problem will be when it airs and all of our best friends call us and say why did you use that story in our show? That will come later. But for now it's been great.
Lennon Parham: There will be some tense Christmas dinners.
Jessica St. Clair: The other thing that's really nice is the way Lennon and I since we began as improvisers. The way we write our scripts is we improvise. And then we tape record ourselves and then we transcribe it. And then we write – that becomes our first draft.
Lennon Parham: So essentially we have the idea for the scene and we act it out in our tiny writer's office.
Jessica St. Clair: Or in our living room.
Lennon Parham: Or in our living room when we didn't have a writer's office and record ourselves.
Jessica St. Clair: So we play all the parts. And Lennon actually plays most of the male parts. And I've got to say, she can get – she can say some really romantic things.
Lennon Parham: It can get really pretty heated – pretty heated, Pattye. Our husbands are very disturbed sometimes when they get home from work. They were like, "you wrote that. That lives in your mind." I'm like, "yeah, say these things to me."
I'm interested in the challenges of juggling all the different roles. In fact, you guys are acting and writing and proofing and doing all the things that you're doing.
Lennon Parham: The most work I've ever done in my entire life. And I taught a high school.
Jessica St. Clair: We might be piles of dust at the end of this experience. But we – you know what, we kind of felt like you only get this chance once really. It – to kind of have your vision come to life. And so we decided we we're going to leave it all on the floor.
Lennon Parham: Yes. And we had our fingers in every patch for sure.
Jessica St. Clair: Our husbands haven't seen us in six months. But you know, it just – absence makes the heart grow fonder.
Lennon Parham: I sent – I sent my husband a picture of myself yesterday, remember.
Jessica St. Clair: You know, we had a binder that Lennon and I have been keeping for 4 years which are all old rip outs of that Domino Magazine, remember that lovely magazine, RIP. And we just had ripped out what we wanted our dream TV apartment to look like. And so you know the set designer was like, "wow, this is more research than most people can think."
Lennon Parham: Yes. The way we also laid out our schedule was a little more friendly to the sort of writer/performer model which is the way that the Always Sunny Guys do it. So there's a writer's room that happens independently of production. And you write everything. In a perfect world, you finish writing everything before you go into production which of course we did – we were perfecting it the morning that we were, you know of the shoot you've seen.
But we had a two months in a writers room with our writing staff. We tried to get as much work done as possible there. And then we go into the shoot, we cross forwarded everything. So we shoot all six episodes kind of out of order like based on location.
Jessica St. Clair: And for a budget. You know – we squeezed a lot more out of the budget that way.
Lennon Parham: Right. And that enabled us to be you know be in the writers room for the full time. And then be on set the full time.
Jessica St. Clair: And we tried when we were on set to really just be actors at that point and stop…
Lennon Parham: And producers…
Jessica St. Clair: And stop being writers which is hard.
Lennon Parham: And now we're in the edit room piecing it all together. But the other thing is we have – we have an amazing support staff and our crew was like knock it out of the park amazing. And everybody was there for the right reasons. And everybody was working harder than they should have had to, based on how much we were all getting paid. But people were passionate about the project and I think that's why everybody was working so hard.
Jessica St. Clair: It has sort of an Indy movie fell to it. Everybody just like pitched in.
Lennon Parham: Or like a community theater Summerstock production of Narnia or something.
Jessica St. Clair: Just because everyone really cared about the show, it was really – Lennon and I would cry at least once a day and we were – because we were so touched with how people were going that extra mile. It was really special.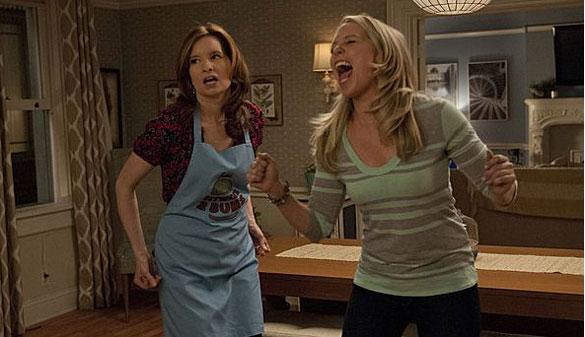 I want to ask you guys about UCB. How did you guys initially get involved? And how do you think I guess the experience and training has helped you?
Jessica St. Clair: Yes, well, it's given us our careers. I mean we would have – we would literally not be here today without the UCB.
Lennon Parham: No.
Jessica St. Clair: And that's the truth. I came – I came to the UCB a year after I graduated college because a friend of mine that I performed – I did improve comedy with in school was taking classes there. And that was when they – when they had just opened their first theater on 22nd Street. And so there was only like 60 people in the theater. Now there are – how many people in level 1?
Lennon Parham: It's the largest long form training center in the world now.
Jessica St. Clair: So at this point, there was 60 of us. And we used to have to go out on the corner in Washington Square Park in the freezing cold and pass out…
Lennon Parham: Flyers.
Jessica St. Clair: Flyers hoping that homeless people would come see us perform. So…
Lennon Parham: If they wanted to use their $5 for a show versus dinner.
Jessica St. Clair: Yes, versus dinner. We talked and they did. But – and it was also in an old porn theater, so people used to come in looking for other things other than comedy.
Lennon Parham: Then they would get hooked by your (unintelligible).
Jessica St. Clair: So at any rate, that's – and I – it was basically like going to grad school for comedy. You just – you learned everything you needed to know about being a performer but also about how to be writer. And so I started doing improve. And then I would write sketch show. And from writing sketch shows is how I got the courage to write my first pilot.
Lennon Parham: I moved to New York. I moved to New York to be an actor. And I started talking class at Second City because I had gone to college with a Mr. Jack McBrayer who you might know from – as Kenneth from 30 Rock. And he (unintelligible) college went to Chicago and did Improve Olympic in Second City and I lived in Chicago one summer and saw him do that. And he was like, "Lennon, you need to do this." So when I moved to New York, I sought out Second City. While I was at Second City, I met 2 amazing ladies who are still my friends today, (Leslie Midel) and (Molly Praser) who were on a Harold team at UCB.
And essentially they said if you want to perform regularly, you need to take classes at UCB. So it was through them I heard about it. And then I started taking classes. And by level 2, I was hooked. There's a real like sort of respect for comedy culture that – that grows there and that – and intelligence that I had not seen in a lot of sketch comedy that I really appreciated.
And it was pushing me and it became a community. And then it became a family.
Jessica St. Clair: They also have a real interesting thing where you at the beginning especially, you interned so that you could get your classes for free. And so you were cleaning the bathroom and doing all these other horrible tasks. But you were there at the theater at least 4 night a week.
Lennon Parham: Seeing the shows.
Jessica St. Clair: Seeing the shows. So like when I interned, I remember the night that I – Tuesday nights was when (Tina Fey) and (Rachel Dratch) had their sketch show. And I was like blown away. I memorized every line in the show. And I was like this is what I want to do. So we had real mentors there, (Amy Polar) and all of these UCB ( Matt Walsh) and (Matt Betser) and (Ian Roberts). They gave us our first jobs.
Lennon Parham: Yes. And it was sort of while we were there that everybody started to breakout on the Daily show and the Office. And now NBC Thursday night's covered with UCB people. And every other commercial has UCB people in it.
Jessica St. Clair: Yes. It's exciting. But it really is like a family. We love each other in a way that I think like a lot of actors feel very – it can be a very lonely experience because it's just you going to auditions. We never had the feeling because we always had each other. And even if you don't have a job, you know you can go perform on Friday nights and – to a packed house and. it's a really great feeling.
Lennon Parham: And it give you your chops. It develops your work ethic. And – and so that you don't ever want to settle for anything less than the funniest thing you have.