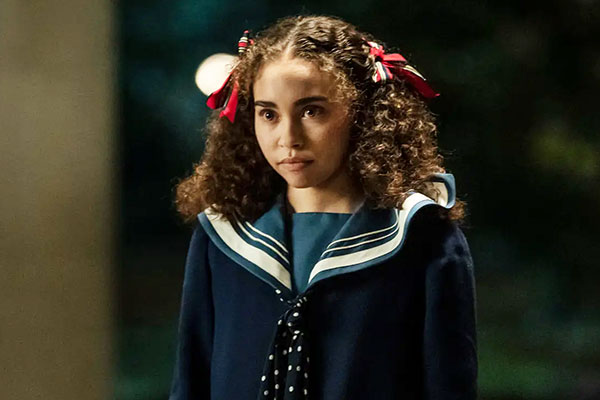 "Dialect… once you start speaking differently, everything changes." – Baily Bass
The latest telling of Anne Rice's iconic novel, Interview With the Vampire, has premiered on AMC and it's done so well, that the network has already renewed it for another season. Like the book, the story follows the vampire Louis de Pointe du Lac (Jacob Anderson) as he tells journalist Daniel Molloy (Eric Bogosian) about his relationship to the vampire Lestat du Lioncourt (Sam Reid) and teenage vampire Claudia (Bailey Bass). 
Bass and the rest of the cast, including showrunner and series creator Rolin Jones, were at this summer's Comic-Con in San Diego where they held interview session to talk about the new series. Here, Bass talks about Claudia, the research she did to get into character and the what she did once she got the role.
What will people think of this show and your character, Claudia?
Bailey Bass: I think a lot of people are gonna find a home in this show because the characters have so much depth. We have seven episodes, and we really have the time to explore everything and explore who these characters really are.
With Claudia, she feels so deeply and so much, and Rolin wrote such a beautiful complex Claudia. They're vampires, there are a lot of relatable elements to the show.
How did you research your role to make the character your own?
Bailey Bass: If I'm being honest, I was not familiar with Interview with the Vampire when I got the audition. Once I started getting closer into callbacks, I watched the movie. When I booked the role, I read the whole book, and had my notes inside. I wrote literally Google Doc after Google Doc after Google Doc with quotes from the book and how it connects to the script, which is such an incredible script. I can't say it enough because truly when you're reading your eyes are glued to the page.
And then dialect. I mean, once you start speaking differently, everything changes. Posture was a big thing for Claudia especially because… I play 14 and then 17, 20, 25 all the way up to 30. So, she's becoming a woman. And even though she's stuck in this body, the little things change. I mean, she's seeing how women walk and she wants to achieve that. So, if she's starting to change the clothes that she's wearing or she's tailoring it herself, or she's killing a victim because she's jealous of her and then steals her clothes and wears them even better.
I just love seeing how awesome Claudia is and it made me more excited to play this role. And then when I looked at it, it really is a dream role. We get to expand on how many emotions she actually feels. She's stuck in this younger body. Her brain never develops. I mean, we say that the prefrontal cortex, that doesn't develop until you're 25. That's what makes decisions. She doesn't have that. It's never gonna develop fully. So, she's always gonna act on feeling first. Because it's a show, we get to expand on that more because she feels so, so deeply stuck. That was definitely fun to play around with on set.
But it's also really fun because Claudia is so feral. I'm just like, 'go big or go home.' Rolin is like, "Get all those emotions. Keep going. Keep going."
And I remember there was one scene where we're about to kill, and my fang popped out because that's how hard I hiss. I was so deep in it, that it popped out.