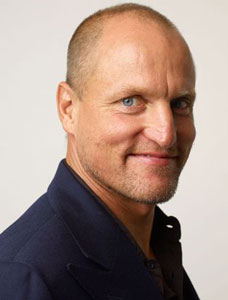 Woody Harrelson has gone from 1980s sitcom star in Cheers to 1990s Hollywood bad boy in films like Natural Born Killers and The People vs. Larry Flynt, to… well, what could you define Harrelson's career as now?  In 2009 alone he acted in a major blockbuster (Zombieland) and in a film that didn't do much business but was a critical favorite, earning him an Oscar Nomination for Best Supporting Actor (The Messenger). 
In fact, Harrelson's current career seems to be one of contradictions, with him re-teaming with The Messenger director Oren Moverman for Rampart, a film about corrupt Los Angeles police officer Dave Brown during the 1990s Rampart scandal.   And while Harrelson's career might not be following a typical trajectory, according to an interview with the The New York Times, that's fine by him.
The irony, of course, is that Harrelson is not exactly the biggest fan of law enforcement: he's had run-ins with the law over his advocacy for marijuana law reform (in fact he conducted this interview while in Amsterdam and sampling the local, well, stuff) and environmental causes, and his father was convicted for a contract killing of a federal judge.  Though one would imagine Harrelson would relish playing the part of a crooked cop, he admits he came out of it with a new respect for law enforcement, explaining, "It was hard for me to believe I could even play a cop.  I remember the first day on the set and getting a picture taken in the uniform and looking at that picture and not believing it, whereas Oren looked at it and said, 'Yes!'  It helped that I spent time riding with two really good L.A. cops and was able to see the humanity in what they do."   But as with most actors, even when playing a character who is less than perfect Harrelson believes that it is important that his character always feels justified in his wrongdoing.  He says, "I don't think you can play someone and not think he is a good guy in some way. He is trying to keep this Shangri-La of living with these two families alive, and he reacts when that is threatened."
Despite finding his character, Harrelson admits that he was not happy with the finished film and had no intention to promote it.  However, after a subsequent viewing, Harrelson realized he was wrong about the film.  He explains, "When I first saw the film, I hated it.  It was very different from the script, and that was a problem for me. As much as I love Oren, we couldn't see eye to eye over it.  And then I got a call that it had been accepted to Toronto, and they asked me to come, and I said, 'Why would I come to promote a movie I didn't like?' Then [co-star] Ben Foster called me and said: 'Woody, you've got to man up, this is family. You need to see the movie again.'  And so I am watching it, and the first 5 minutes are great, then the first 20, and I kept waiting for the problems, so I could tell Oren where I think it heads south — and it never came. I love the movie. I saw Oren and said: 'Well, it takes a man to admit he was wrong. I was really wrong on this one.'"
After all of Harrelson's success in film acting one would also expect that he's found his niche.  Except that he hasn't — Harrelson, who has written and directed plays before — confesses that he feels more validated by his writing for the stage than for his acting.  He explains, "I have had a lot of luck in films, but there isn't much that compares to being in a live theater and hearing people laugh at something that you wrote because they think it's funny." 
Finally, after all his contradictions in his current career it's fascinating to discover that Harrelson feels that he is at the happiest point that he's ever been.  "I love my life right now.  I don't need to be more famous or more successful, I just want it to keep going the way it is," he explains, and, based on his recent success, it's easy to understand why he feels that way.