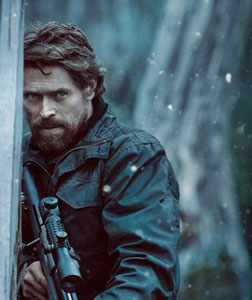 There are some actors like Daniel Day-Lewis who take years-long breaks between roles.  Then there are actors like Willem Dafoe, who starred in three films released in only four weeks: John Carter (released March 9), 4:44 Last Day on Earth (March 23), and the upcoming The Hunter (April 6). In an interview with the New York Daily News, Dafoe talks about his success and his 2012 roles.
Dafoe admits that he can't believe the success he's enjoyed over the last two decades.  He says, "[I think about it] all the time, all the time, all the time.  I'm not supposed to be here, certain forces happened, certain luck happened, certain willful things on my part and certain conditions, because if I did what most people did I'm in the wrong place. It wasn't written on the wall, I didn't follow a prescribed path."  After all, sometimes those roles come from unintended encounters: Dafoe ended up starring in The Hunter after the director, Daniel Nettheim, approached Dafoe in a restaurant in New York City.
Also, among Dafoe's many roles are very varied choices.  For example, Dafoe appears in John Carter as Tars Tarkas, but viewers only hear his voice — Tarkas is a nine-foot tall, four-armed green martian.  But Dafoe is quick to point out that although the character is computer generated Dafoe was on the set, in stilts, for months — he didn't just record the voice in a recording booth.  He says, "Of course, I'm unrecognizable in the end, but when I watch the movie, I see every impulse, because the animators honored the performance.  And I must say it kills me when someone watches the movie and thinks that it's just voiced. That's six months of walking around on stilts."
While Dafoe has had a busy first-third of 2012, he still has at least one more role left this year: hes stars in Odd Thomas, a mystery directed by Stephen Sommers based on the Dean Koontz novel, is set for a fall release.