There is no such thing as bad press right? On Wednesday, orders from the mayor's office sent Will Smith's trailer for Men in Black III off the city streets of New York.  The orders came after protests, from residents and business owners in the SoHo neighborhood where the trailer was parked.
The 1,150 square foot, double-decker trailer boasts a lounge, a movie room with a 100-inch screen, staff offices, full kitchen, and large bedroom and bathroom.  The entire production took over the streets in the neighborhood totaling 25 trucks — including a second, 55-foot trailer featuring Smith's full-sized gym.
Not everyone was happy about Hollywood being on their front doorstep.  Brigette Moreno, 22 who lives right above the parked trailer told the New York Post: "The smell that comes along with it is disgusting. It's like living in a gas station. I really like Will Smith, but I would be embarrassed if that was my trailer. A little modesty goes a long way."
"This trailer has been used many times in this city by different studios on various movies over the years, and while its use has never been an issue before, we regret any inconvenience it may have caused," Columbia Pictures spokesman Steve Elzer said in an apology.  The trailer was moved to a private lot about a half mile from the film set.
Directed by Barry Sonnenfeld, the film also reunites Smith with co-star Tommy Lee Jones.  Men in Black III is scheduled for release in May of 2012.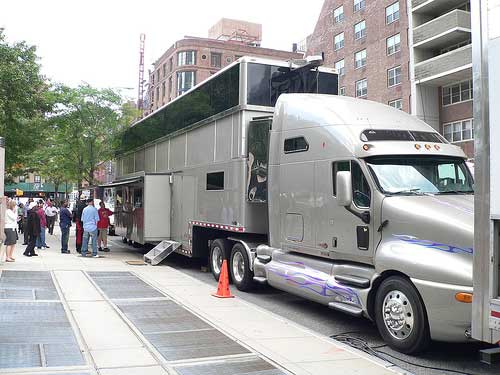 via NYPOST