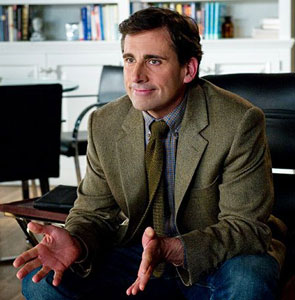 Although movies like The 40 Year Old Virgin are hilarious, I think Steve Carell is at his best in supporting roles.  In fact, in the Meryl Streep and Tommy Lee Jones movie Hope Springs about an aging couple that is looking to put the spark back into their relationship, Carell plays a more subdued role than usual as the couple's therapist. 
He speaks to MovieFone about working with the two respected veterans and why he sometimes chooses roles that are a bit out of his element.
When asked if he felt nervous acting with Oscar winners Meryl Streep and Tommy Lee Jones, Carell reveals that he was, but only at first.  He explains, "There was when I [first] read the script, but not actually in the execution. It was really just fun and exciting to be there with them. A lot of these scenes were sort of lengthy — they could be 8-10 minutes long — and [the director] David Frankel shot them uncut, so we went and would do the scene in its entirety. So that, to me, was fun and exciting, as well, to be able to do a little one-act play with these two. I guess I try not to be nervous, because I didn't want that to be reflected in what I was doing at all, because the character I was playing had to be very much in control and poised and confident and calm. So that's sort of where I tried to get my head."
In fact, unlike when he works on films with other comedians, Carell pointed out that he didn't try much improvisation in this film.  He says, "I understood the approach I wanted to take, which was very simple and earnest and unironic. I wanted to be as legitimate a therapist as I could be, and just create that environment."  However, it wasn't difficult for Carell to maintain that environment when working with Streep and Jones, and he adds, "There would be long takes with the camera just on me, and Meryl Streep and Tommy Lee Jones were off camera, right next to it, not dialing down any of their performance — they were giving me everything they [could] and keeping the performance consistent."
Despite it being a different type of role for Carell, he explains that he didn't take the part in Hope Springs in order to demonstrate his range as an actor.  He says, "It's fun to try and do different things. But there's no sort of master plan. I would never do a role because I want people to perceive me a certain way. Frankly, who would turn down a part in a Meryl Streep-Tommy Lee Jones movie? It didn't matter what part I was asked to play. If you're offered something like that, I think you just take it. That's a once-in-a-lifetime chance. It's fun when it's something that not only lives up to, but exceeds your expectations."
Hope Springs opens Friday in theaters.