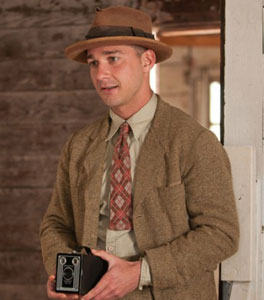 2013 just hasn't been Shia LaBeouf's year, but it's hard to argue that it isn't mostly because of his own missteps.  I admit being tough on him back in March because of the way he handled his firing from the Broadway play Orphans by making private e-mails public, but that's because this website is called Daily Actor and it was certainly an example of an actor being unprofessional.  His ensuing public feud with Alec Baldwin (who clearly isn't a level-headed individual either) was probably the main reason why Orphans ended up closing early anyway (though Baldwin subsequently blamed it on New York Times critic Ben Brantley, an accusation that didn't drum up much support in hindsight).  On top of that, the two films LaBeouf starred in this year, The Company You Keep and Charlie Countryman were released to mostly negative reviews and poor box office earnings.
But as far as I'm concerned, his latest blunder is the most inexcusable.
In 2012, LaBeouf released a short film titled HowardCantour.com starring Jim Gaffigan as an internet film critic.  After debuting at the 2012 Cannes Film Festival it played at several other festivals, including the 2012 St. Louis International Film Festival and the 2013 Phoenix Film Festival.  Yesterday the short was released on the internet for the first time via Vimeo, but soon was password protected after viewers pointed out the obvious similarities between LaBeouf's short and a 2007 comic by Dan Clowes (whose Ghost World and Art School Confidential were adapted into films by director Terry Zwigoff) titled Justin M. Damiano.  Those who saw the short (I did not have the chance to see it) have said this wasn't the case of two creators having the same idea — according to reports, much of HowardCantour.com was a direct copy of Clowes' comic, including some instances of exact same dialogue verbatim.  Both Clowes and Clowes' publisher, Eric Reynolds of Fantagraphics, have expressed disappointment in LaBeouf's obvious plagiarism of the original comic, with Reynolds going as far as claiming that LaBeouf specifically mislead audiences by not listing any writing credits on his short.
LaBeouf has since posted an apology (if you can call it that) on his Twitter:
"Copying isn't particularly creative work. Being inspired by someone else's idea to produce something new and different IS creative work. In my excitement and naiveté as an amateur filmmaker, I got lost in the creative process and neglected to follow proper accreditation. I'm embarrassed that I failed to credit @danielclowes for his original graphic novella Justin M. Damiano, which served as my inspiration. I was truly moved by his piece of work & I knew that it would make a poignant & relevant short. I apologize to all who assumed I wrote it. I deeply regret the manner in which these events have unfolded and want @danielclowes to know that I have a great respect for his work. I f—d up."
Perhaps the most surprising part?  Bleeding Cool suggests that LaBeouf might have plagiarized his apology from Yahoo! Answers, similar to when his apology to Alec Baldwin was lifted nearly word-for-word from an Esquire piece.  It's certainly not as blatant as the Esquire plagiarism or the plagiarism of Clowes' work, but it is certainly plausible.
It's important to note that all artists and fans of art tend to take plagiarism very seriously, and in this digital age it's unwise to expect that such a blatant form of it will go unnoticed by audiences for very long.  It's probably the fastest route to disrespect in any creative industry.