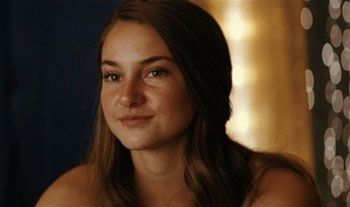 She currently has one of the hottest careers in Hollywood, but Shailene Woodley has her backup plan ready just in case she needs it. In a recent interview with the Associated Press, the 21-year-old actress talked about fame and the consequences of a public life.
Woodley told the AP, "I have a very, very fun life outside of this industry, so if anything were to not happen or if things got to be way too overwhelming … I will go and be an herbalist. I never want to stop. I want to act until the day that I'm not here anymore. But the day it becomes boring is the day I'll quit."
Right now, being an herbalist should be on the back burner for this talented young actress. After her breakout role in 2011's The Descendants alongside co-star George Clooney, Woodley is seeing her career skyrocket.
Even with this success, she said, "I'll never, ever think of myself as famous, even if I ever get to the point of George Clooney … because I think you might go crazy if you start referring to yourself in those terms. But the main thing for me is just, I'm me, and I live such an amazing life which I'm so lucky for and I have such amazing friends and the perfect family … that I don't see anything changing."
Even though filmgoers became familiar with her face from the Oscar-nominated movie, television viewers were well-versed in her skills from the ABC Family show The Secret Life of the American Teenager which she starred on for five seasons. Her career began even earlier than that though. At the age of 5, she already had an agent and had 60 commercials under her belt by the age of 11.
However, her life has been pretty normal despite her on-camera upbringing.
"I had three rules when I was growing up: I had to stay who I was, have fun and do well in school," said Woodley. "And if I constantly abided by all three of those, then I could continue to act."
With her current role in the indie film The Spectacular Now and a huge franchise role coming up in The Divergent, she knows some of her normal life is about to change.
She revealed, "There's this obsession in our society and in our culture about actors. The magazines and the excess and red carpets and the heels, they're kind of terrifying. I'm able to handle it and it's fun and I can enjoy it, but it's terrifying on a human level, just looking at our culture and thinking, 'In 50 years are we going to look back to this moment in time and roll our eyes?'"
It sounds like Shailene Woodley has a great head on her shoulders.