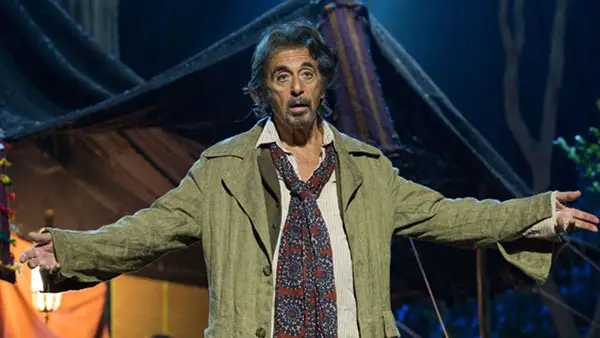 "I wouldn't do eight performances if you paid me. It's too much" – Al Pacino on Broadway's performance schedules
After working infrequently in film over the last decade, Al Pacino appears in several films released in 2015, including The Humbling, an indie drama directed by Barry Levinson. Pacino spoke to the Associated Press about why he decided to do the film, why he won't retire, and how he believes he has great performances still to offer.
Pacino points out that he thought he'd give The Humbling a shot because he was playing a character who was also an actor. He reveals, "I thought I had a better chance of making a movie that was effective because it was about a world I understood."
The Godfather star will turn seventy-five this year and admits he doesn't feel like the man he was in the 1970s. He confesses, "I do feel differently. I don't quite get up from this table the same way. I may want to but I don't." Nonetheless, Pacino has no plans to retire from acting. He says, "Acting, especially if you've done it as long as I have, it becomes such a part of your nature you rarely ever think about quitting or anything like that." In fact, Pacino believes he still has one more great role in him even though he doesn't know what it will be. "I don't know if it's going to be in movies. … Acting, it can take on different forms," he points out.
In fact, that performance may come in David Mamet's China Doll, a play that will premiere on Broadway later this year. While Pacino will star, the production will not run the standard eight performances a week schedule of Broadway. Pacino says that it's a personal choice, remarking, "I wouldn't do eight performances if you paid me. It's too much. I gave that up a long time ago." Pacino's last engagement on Broadway, the 2012 revival of Mamet's Glengarry Glen Ross, had a performance schedule that included five, seven, and eight performance week throughout its limited run.