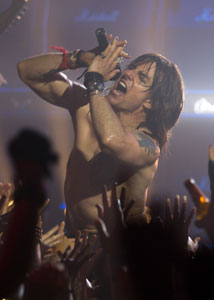 There are a lot of famous actors in the film adaptation of the Broadway musical hit Rock of Ages, but the one who steals the show is Tom Cruise.  Cruise completely owns another role as rock god Stacee Jaxx, even though many wouldn't initially think of Cruise as a good choice for the Axl Rose-like role.
But according to Adam Shankman, the film's director, getting Cruise involved was easier than he expected.  He explains, "I was thinking to myself, 'Wouldn't it be cool if we got one of the biggest movie stars in the world to play one of the biggest rock stars in the world?' And, as luck would have it, I ran into Tom Cruise, told him I was directing this movie, that it was a musical, and that I was going to offer him this part.  He said, 'Are you serious?'  I said I was.  Then I described Stacee to him and he laughed really hard.  The next thing I knew, he was in, and I was making a musical with Tom Cruise."
Still, it took some effort on Cruise's part to transform himself into the tattooed, hell-raising rocker, but Shankman points out that he was up for the task.  He says, "From the moment he signed on, Tom started training his voice with an incredible vocal coach, Ron Anderson.  I remember the first time we heard him sing.  He's got this outrageous, four-octave range—turns out he has opera singers in his ancestry, so he's probably genetically predisposed to sing, but no one's ever asked him to before.  I'm just the lucky recipient of this revelation, I suppose."
Nobody ever asked him to sing before?  Well, I'm not sure if it counts, but I am sure I am not the only one who remembers the pretty iconic "You've Lost that Lovin' Feeling" scene in Top Gun.  But I'll give Shankman the credit for helping Cruise embrace his inner rock star.