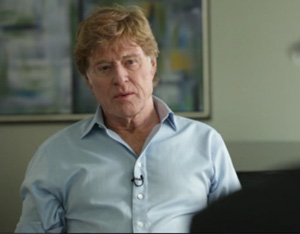 With his new film, The Conspirator, director Robert Redford tells the tale a woman on the other side of John Wilkes Booth, who shot and killed President Abraham Lincoln at Ford's Theatre in Washington, D.C. in 1865.
"Inside of that frame is the story that very few people know, which is the trial of Mary Surratt," Redford told interviewer Gilbert Cruz in a "10 Questions" video for Time's website. Surratt, a co-conspirator in Lincoln's assassination, was eventually found guilty and gained the dubious distinction of being the first American female to be given the death penalty.
Starring Robin Wright as Surratt, The Conspirator wrapped filming in December 2009 and premiered at last summer's Toronto International Film Festival. Interestingly, Lincoln's face is never shown in the movie, a decision which Redford explained.
"His face has been so well-covered…" he said in the video. "If you try to authenticate his face, you're just never going to win."
"Sadly," Redford bemoaned, his latest film, set in a time where the nation's population was splintered by war, is more relevant today than it should be. "The phrase that Lincoln used to pull the nation together, 'A nation divided cannot stand,' I believe that. We saw how hard it was for him to do that we saw what the costs are. Unfortunately, those circumstances haven't completely gone away with time."
Video after the jump