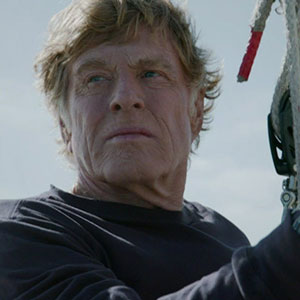 All Is Lost in not a movie that everyone is going to like.  It is a story survival about a lone man against nature as he faces dangerous conditions with his damaged boat in the middle of the ocean.  One of the most incredible things about it is that it is almost entirely free of dialogue because it only features a single actor.  Of course, when that actor is the iconic Robert Redford, it's no problem to stay fixed on him on screen.  He spoke to The New York Times about how he ended up being cast in such a unique film, what he brought to a character with no backstory, and how he managed to get through such a grueling shoot at his age.
Redford explains that since the character he plays has no name of backstory — either in the film or in the script — he portrayed the character as if it were himself.  He says he did this because he didn't have another choice, pointing out, "There was so little described of the guy that, of course, it had to be me."
Redford doesn't act in many films anymore, and many are projects he initiates.  So how did a relatively novice director like J.C. Chandor manage to get one of the biggest stars in Hollywood history to star in this unique project?  According to Redford, Chandor simply asked.  He explains, "In 30 years of supporting new artists and Sundance labs and the festival, no one ever came to me and asked me to be in a film.  Maybe they thought I was above it. And when I realized J. C. was ferocious in his focus and devotion to detail, I thought, this is a guy who I can give myself over to as an actor, which I was longing for. It was like coming full circle."
In fact, Redford was so game to do the film that he even requested to do some of the stunts himself.  He reveals that once they were on set,  "We get down there and, of course, my ego kicks in.   I started saying: 'I think I can try that. Let me see what I can do.' And I realized that my doing that stuff was really a big part of the character, and that it would be much better for the film if he didn't have to cut and slice."  Redford ended up doing almost all the stunts in the film except for a few dangerous swimming shots.
So how did Redford cope with doing his own stunts and being constantly soaked?  The way most people would it seems, because he confesses, "I was so tired of being wet and there was no time not to be wet except at night, and so then it was tequila."
And he isn't lying — at the end of the credits there is a list of the crew's favorite bars they frequented during the shooting.  Something tells me Redford was happy to buy the first round.