Crying on cue for a movie can be hard enough for an adult actor, and is often next to impossible for a child actor.  But Shawn Levy, director of Real Steel, has a secret to getting the waterworks going: music.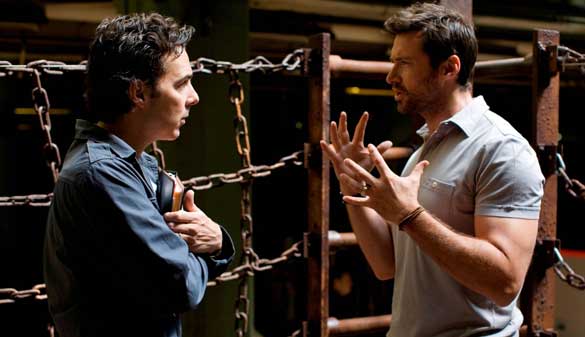 "I play music on set when I'm shooting," Levy explained during a discussion about his robot film, "The more intellectual the actor, the more I find music is a great way to direct, because you bypass the cerebral intellect with music." 
Levy goes into more detail about how he chooses his music, revealing, "For every sequence of the movie, I make a play list months before I make the movie.  So I had fight songs, I had pre-fight songs, I had the opening — and my opening playlist was Nick Drake, Josh Rayden, Alexi Murdoch, Ben Harper, a little Jon Mayer…that kind of stuff."  Huh… I can't see how Nick Drake, Ben Harper, or Jon Mayer music would be appropriate pump-up music for a robot boxing film, but that's why Levy is paid the big bucks.   For the challenge of making eleven year-old Dakota Goyo cry, Levy picked the song "First Breath After Coma" by Explosions in the Sky.  His directions to Goyo were succinct: Levy reveals, "The last thing I said is, I need you to cry.  I did not say anything.  I said, I'm gonna play some music, feel what you feel.  We're gonna roll slow motion.  Let's see what happens…And so I played this piece of music, and he started…first it was the nostril, and that's what you see in the movie — the nostril, then the chin, and that one frickin' tear!"
Levy's directing helped make Real Steel the #1 movie at the box office last weekend… and I'm sure he's not crying about that!
Via About.com