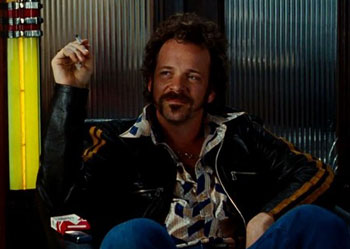 Peter Sarsgaard always chooses interesting roles, whether they're death row inmates like on The Killing or his newest part as an abusive husband in Lovelace.
"I look at what comes in front of me and try to pick the best material," he said in an interview with Yahoo! News.  "I'm usually attracted to roles where I think I will have room to carve out someone that has some degree of reality to who they are."
His character in Lovelace is the husband of 1970s adult film star, Linda Lovelace (of Deep Throat fame). The film portrays him as an exploitative personality who forces Linda into the business.  Sarsgaard knew he needed to create a character that Linda would initially fall in love with.
"He is going to have to be charming.  He is charming and despicable," he admitted.  "That's about five feet of wiggle room there for me and I know I can make a character there."
See Sarsgaard in Lovelace in theaters and on VOD now.