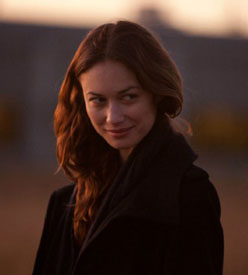 Olga Kurylenko is ready to prove she's more than just a pretty face.  Although she got her start modeling and starred as a Bond girl in Quantum of Solace, she's hoping to branch out more.
"That's not what an actor hopes to play," she said in an interview with The New York Post. "They've mostly been dull and just arm candy."
With her new role in Terrence Malick's To the Wonder, Kurylenko did as much preparation as possible.  "I had to read three Russian novels: Anna Karenina, The Idiot and The Brothers Karamazov," she recalled.  "They were very tiny little novels.  After that it was just discussions about what I drew from the books, how we can compose the character, and what similarities are there between [her character] and the different female characters in those books."
The Ukrainian actress acknowledges how lucky her life is.  "You don't dream about things that are impossible, that are out of your range," she said, remembering her childhood in the former Soviet Union.  "So I couldn't dream.  For me, that was never going to happen."
But despite landing on the covers of magazines like Vogue and Elle, Kurylenko still feels like a simple girl at heart.
"Hollywood always represents this big dream and fairy tale in people's minds, and to me it's hard work," she admitted.  "It's all Cinderella [on the red carpet], but when the clock strikes midnight everything turns, and I turn into a gray mouse and go home and take my dress off and it's over.  That's Hollywood."
To the Wonder is currently playing in limited release.