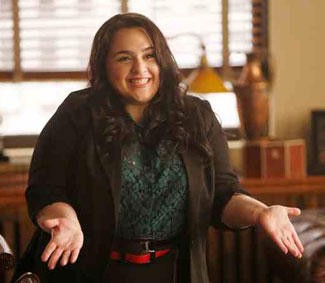 In 2007, one of the biggest breakout stars was Nikki Blonsky who found herself onscreen with John Travolta and Christopher Walken in the John Waters musical extravaganza, Hairspray. The film was a box office hit and it looked like the sky was the limit for the young actress.
However, success eluded her after that magnificent debut and she hasn't had a leading role since. She addressed this topic on a recent episode of Oprah: Where Are They Now?
Some of her on-screen absence was self-induced. Blonsky wanted another role that had the same magnitude like her character Tracy Turnblad.
She revealed, "They were roles that, to me, didn't match up to Tracy."
Of course, her weight was an issue. It's something that has plagued many Hollywood starlets, both thin and curvy. Either way, the news can be crushing to hear.
"I had so many meetings with people telling me, 'Well, you're so beautiful and you have such a gorgeous face, but maybe if you just lost a little [weight] in your backside…' I'm like, 'Wait, I'm not a Mr. Potato Head doll that you can just put this on and take that off,'" Blonsky said. "It doesn't work like that."
The former Smash guest star received from great advice from Travolta who told her, "Always stay who you are. Never change who you are for anybody."
She took that advice to heart and the 25-year-old actress confidently expressed how she feels about her physique.
Blonsky explained, "Maybe someday I will lose those 60 pounds, but if I do, it's going to be for my own reasons. Not because somebody told me to."