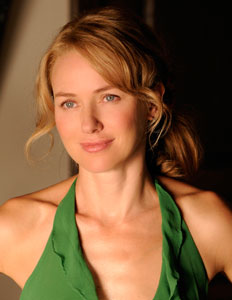 The 24th annual Palm Springs International Film Festival will present Naomi Watts with the Desert Palm Achievement Actress Award at its Awards Gala, which will be held on Saturday, January 5 at the Palm Springs Convention Center. 
The Festival runs January 3-14, 2013.
"We're delighted to pay tribute to Naomi Watts, one of the most gifted and versatile performers to grace the screen," said Palm Springs International Film Festival chairman Harold Matzner.  "The Impossible, the true story of the tsunami that stunned the world with its fury, is the vehicle for Ms. Watts to display the talent and sensitivity that cinema lovers have come to expect and appreciate from her.  It is our honor to present the 2013 Desert Palm Achievement Actress Award to Naomi Watts, for a performance worthy of an Oscar nomination."
Past recipients of the Desert Palm Achievement Award include Halle Berry, Marion Cotillard, Anne Hathaway, Natalie Portman, Charlize Theron, Michelle Williams, and Kate Winslet.  Watts was previously honored at the Festival for her Academy Award-nominated performance in 21 Grams.  
Watts stars in the upcoming film, The Impossible, which is based on the true story of a family caught in the mayhem of one of the worst natural catastrophes of our time, the 2004 Indian Ocean tsunami.  Directed by J.A. Bayona, The Impossible also stars Ewan McGregor and Tom Holland.
She will next be seen in Movie 43, with Liev Schreiber; Two Mothers with Robin Wright; and Sunlight Jr. with Matt Dillon.  Watts recently completed shooting the highly anticipated biopic Diana in the lead role as the iconic Princess Diana.