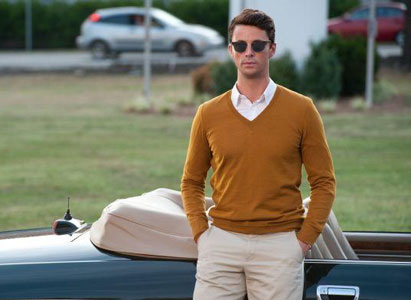 Matthew Goode admits that playing a villain is somewhat different than portraying an everyday hero.  In order to successfully draw the audience in on Park Chan-wook's Stoker, Goode had to work at downplaying his character.  But at the end of the day, he ended up relying on rehearsal and then just jumping in headfirst.
"I think that's always the same for any job that you do, you do all your preparation and then you throw it out the window and commit just to what that scene is about," he said in an interview with BlackBook.  "You're always jumping around, it's very rare for you to shoot something narratively—I've never done that, it would be a real joy actually to go on that journey.  So I try not to think about things too much.  And this was really rehearsed in a way that I liked rehearsing, not getting it up on its feet too much. 
"It was very much sitting down and reading it rather than trying to block it, because often times you try and rehearse things and you're not in the environment that you'll be shooting in and it becomes quite confusing.  So we talked about it a lot and whatever scene you're doing, you know where your character is on the x/y graph of emotion and the trajectory of your arc, and you go on and do it."
Goode, who also starred in Brideshead Revisited and A Single Man, first became attached to the project after Colin Firth dropped out, "because he was too busy.  He desperately wanted to do it, I know that he loves Director Park, as we all do, but he was very generous and he said, 'I'd love to be doing it but if it's anyone it's you taking it over,' which was really nice of him.  But it was still a process, it wasn't offered, so I had a Skype session with Director Park for about an hour and then you know, went through the gamut of auditions and eventually my name just stayed in the hat for as long as it was and I found out a couple of months later.  It was kind of a long process but thank god it worked out."
The actor was immediately drawn to the script, in part because he was a fan of Park's work on films like Oldboy and Thirst.  "And the character—particularly his involvement in the story—I just thought was quite fascinating and something I hadn't done, which is something you always want as an actor, something new to get your teeth into.  I was like, 'Well, it's a no brainer.'"
As excited as Goode was to take on the role, he still confesses to being nervous about appearing in the film (which costars Nicole Kidman and Mia Wasikowska).
"I'm always nervous," he said.  "There's always a first day on set when you're thinking, 'Oh god, I hope I'm not found out.'  I was always worried about how much are we going to show and luckily, I think Director Park and I were always on the same page of what to try and reveal and what not to reveal and do you want to answer every single question about this guy?  But also, you can't just have a two-dimensional bad guy, you have to try and psychologically make sense, certainly for the actor whose playing it and for the audience, there has to be something there."
Stoker is currently out in theaters in limited release.