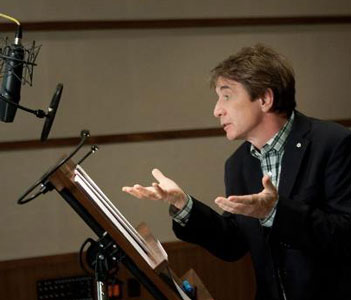 Martin Short has had a long career playing many successful characters.  So what's he playing now? A sea lion.
Yes, Short is giving voice to an Italian sea lion named Stefano in Madagascar 3: Europe's Most Wanted in the first role that has ever required him to use a dialect coach.
Short spoke about his experience with Moviefone, saying "You don't work with a coach so much as I would send the script over, she would read the lines in a very calm way in an Italian accent and so you would realize that you didn't want to say 'eeet's-aah nice to se yooooooou,' you would want to say, 'eet's nice to see you-aah.'  But you don't do that, you know."
Short admitted that the technique is similar to how he prepares to do an impression.  "You kind of get the sound of that voice and…sometimes there's a natural break in people's voices.  So when I transcribe a conversation with them or a speech by them, you hear their hesitations and their ahhs and you apply it to what you do."
The comedian is best known for inventing characters like Jiminy Glick and Ed Grimley. Short notes, "They all become, it's so cheesy to say, but they become like your children.  So they're all different.  Ed Grimley is part of me, Jiminy Glick is part of me—there's a sarcastic, bitchy side to my personality.  I think that they, you know, especially the ones that you improvise, easily express a part of you."
After his role in Madagascar, Short also voices a part in Tim Burton's upcoming stop-motion film Frankenweenie.  He said he likes the ease of non-live action movies.  "You know, you can be in any city and you can be at any time of the month and you can scoot in and do it.  It's easy to schedule these things.  And you know, it's two hours here, it's two hours there, it's not that time consuming.  And there's no pressure on you, there's no one standing there saying, 'OK, you have one hour.'  You can take as much time as you want, try as many voices as you want, as many variations as you want," he said.
But in keeping with Short's improvisation background, he still wants to keep his career varied as well.  He said, "I think I probably do find it more interesting to vary it all up.  It's a little more interesting to me.  It's not so much about trying to pay bills now as trying to keep myself interested.  The more variety you pack into a year, the more interested I find myself being."
Madagascar opened last week and Frankenweenie comes out in October.