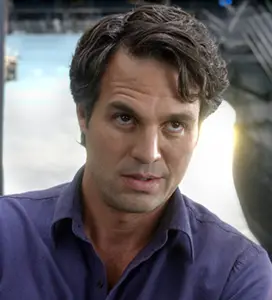 When the world goes to see The Avengers on May 4 (and there is a good chance that it'll be more popular than The Hunger Games), one of the Marvel superheroes will look a bit different: The Hulk. 
But by now audiences should be used to seeing the Hulk's human alter ego, Dr. Bruce Banner, look differently.  After all, Mark Ruffalo, who plays Banner in The Avengers, is the third actor in ten years to take on the role after Eric Bana (2003's Hulk) and Ed Norton (2008's The Incredible Hulk).
At The Avengers premiere, Ruffalo talked about how he managed stepping into the Hulk's purple pants.
On the red carpet event for The Avengers, Ruffalo told Access Hollywood that at first he was concerned about agreeing to be in a movie that didn't have a complete script, but a co-star convinced him otherwise.  He explains, "I made a promise to myself that I would never sign on to a movie that didn't have a script.  I talked to Joss [Whedon, director] and I liked him, and I called Robert [Downey Jr.] and I said, 'Robert, what do you think?' And he said, 'Come on. We can do this. We got this, buddy. It's gonna be fun. We'll take care of each other.'
Ruffalo also revealed to Access Hollywood his inspiration for acting like the raging, uncontrollable Hulk: his son.  He says, "I was channeling my 10-year-old son, who I dedicate my performance to.  It's that horrible moment in a child's life when the world expects a certain kind of behavior from [them], but [they] can't quite hold it together and [they] break out in rage and it's Hulk-like.  So, I used him quite a bit for that character."
Of course, performing as the Hulk isn't all fun and games, especially since unlike his co-stars — which include Chris "Captain America" Evans and Jeremy "Hawkeye" Renner — Ruffalo wasn't in a superhero costume on set since the Hulk is computer generated, so Ruffalo was instead in a motion capture suit.   He says the experience was uncomfortable and intimidating, confessing, "I was wearing a frumpy little, like, linen thrift store suit and they were all in their superhero costumes looking very, very full.  But I think it was exactly how Bruce Banner feels — a little out of place."
If the trailers are any indication, Ruffalo's Hulk will fit right in as the Hulk — so he doesn't have much to worry about.