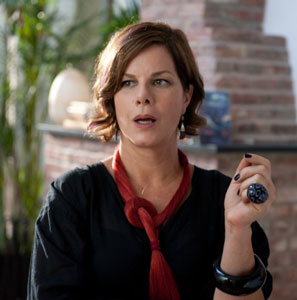 Oscar-winner Marcia Gay Harden still seeks out acting experiences she can learn from, taking on a role in Someday This Pain Will Be Useful To You in order to work with director Roberto Faenza.
"I signed on to do it for—one it was perfect timing blah, blah, blah—but I wanted to work with an Italian director," she said in an interview with The Wall Street Journal.  "I thought, this is different, this is something unique, there's going to be a different sensibility to the film."
The actress, known for her roles in Pollock and Mystic River, was able to try out different acting techniques in order to play a needy mother.  "It changes the way you have to communicate, you have to show them," Harden said.  "You can explain it until the cows come home, then you have to show them."
The film, which is being released on VOD at the same time as its theatrical release, is an example of the way movie marketing has shifted in the past several years.  "Everything has changed in terms of the way movies are released or distributed or talked about," Harden said.  "With first foreign distributions, with on demand, with Netflix, with the Internet, everything has changed so you can't go back to any old model of the '40s, '50s, '60s,'70s, '80s."
Harden is shooting The Librarian next, but would still love to return to the theater.  "Miss the theater," she admitted.  "Miss, miss, miss the theater.  Love it, but it's tough on kids because mom is away exactly when they're home and mom is home exactly when they're away.  But I miss God of Carnage, I miss all of that.  I love it."
Someday This Pain Will Be Useful To You is out on Friday, October 12.