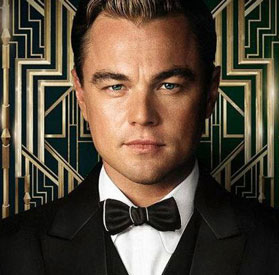 After working nonstop the past several years, Leonardo DiCaprio is in dire need of some time off.
"I am a bit drained," he admitted to IndieWire.  "I'm now going to take a long, long break.  I've done three films in two years and I'm just worn out."  It's true that DiCaprio has been onscreen a lot—in 2010, he released Shutter Island and Inception andlast year was J. Edgar.  The actor is currently starring in Quentin Tarantino's Django Unchained and will next appear in The Great Gatsby (which will open May 10).
But it doesn't look like DiCaprio will spend his vacation lounging around.  "I would like to improve the world a bit," the 38-year old said.  "I will fly around the world doing good for the environment.  My roof is covered with solar panels.  My car is electric.  A normal person does not drive more than 50 kilometers (31 miles) a day.  That can be done with a plug."
Hopefully, he can schedule some relaxation time in between saving the environment.