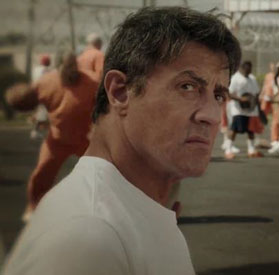 Seems like the autographed photo I have from Sylvester Stallone is a lot more valuable than I thought…
Stallone made a rare New York Comic-Con appearance to promote his upcoming film Escape Plan (which co-stars fellow 80s action movie icon Arnold Schwarzenegger) and while there decided to do what many stars and former stars appearing at conventions do: sign autographs for a fee.  Unlike other stars, Stallone charged a whopping $395 per autograph and $445 for a photo with the Rocky and Rambo star, according to Gawker.
In Stallone's defense, the fee was likely set by the memorabilia company that set up the appearance, Celebrity Authentics, and his management.  It's also fair to say that Stallone does very few autograph appearances — in fact, I've never heard of him doing one before — making his signature (and the few moments of time you can spend with him) worth more.
However, that doesn't mean the fee wasn't astronomical — Gawker notes Sigourney Weaver charges $185 for an autograph and $200 for a photo opp.  Other stars charged significantly less.  Convention regulars William Shatner and Patrick Stewart charge $75 for an autograph (it costs $220 to take a photo with both of them), and Anthony "C-3PO" Daniels charges $50.  Of course, since they do so many conventions their autographs (and the precious thirty or so seconds you have talking with them) aren't as valuable in the market.  And if you're not so interested in actually meeting Stallone but still want his autograph, you can nab a number of different photos for under $100 on eBay.
So on the one hand, this is a simple case of supply and demand.  One the other hand… holy crap, that's a lot of money to meet Rocky!