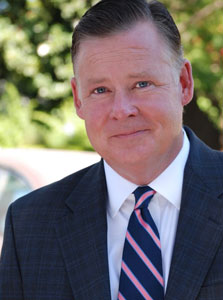 EVERYONE knows who Bill Murray is, and most people know that his older brother, Brian Doyle-Murray, is also an actor.  But what about Joel Murray, yet another Murray brother who is an actor?
"I don't often get recognized for my work, but I look familiar," Joel Murray tells the Los Angeles Times, "I'm just a working-man actor. I go and audition and you just hope the work keeps coming."
Indeed, Joel Murray has had a steady acting career despite not being as recognizable as his older brothers.  He's appeared on television in recurring roles on Dharma & Greg, Shameless, Two and a Half Men, and Mad Men and has appeared in small roles in films like The Artist and The Cable Guy.  But Joel has finally landed his first leading role in the Bobcat Goldthwait-directed black comedy God Bless America (he previously appeared in a minor role in Goldthwait's first directorial effort Shakes the Clown).
Though he's friendly with Goldthwait, Joel didn't expect him to offer the lead role in the movie to him.  He explains, "Starting out, I was always the Buddy. This is my first shot to be the Guy.  When [Goldthwait] sent me the script and I read it and called him, I said, 'It's great, do you want me to be the guy in the office, the boss, what do you want me to be?' He said, 'No, I want you to be Frank.' 'You want me to be the Guy?'"
Though excited about his starring role in a lot of ways Joel is thankful that he's not more recognizable.  He points to his most famous brother as an example of why he prefers not being too famous, saying, "You know, I have a famous brother and I see what his life's like. He can stay places 15 minutes and then he's got to leave. So I've seen what it's like to be famous and I haven't really aspired to be a huge mega-star, not that I've had that opportunity. I've had a great career. I like the level that I've been at."
God Bless America is now playing in limited release and is also available on VOD.