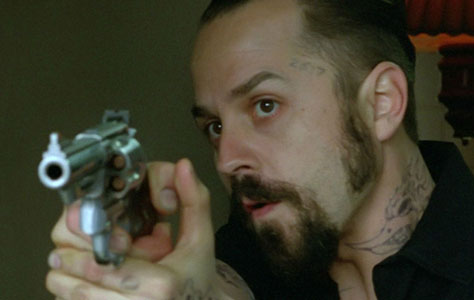 Giovanni Ribisi is headed back to theaters once again in his latest role as Tim Briggs, the villain of director Baltasar Kormákur's latest flick Contraband. 
Due out in theaters this Friday, Ribisi faces off against Mark Wahlberg in the film, who plays Chris, a former smuggler that goes on the straight and narrow in order to raise a normal family with his wife Kate, played by Kate Beckinsale, until Briggs forces him back to the criminal world.
Speaking with Coming Soon during a press conference, Ribisi spoke about his approach to acting, a craft he has been perfecting since he was just eleven years old. 
"I think in anything, you have to keep asking yourself, "What is possible?" and I hope that doesn't sound pretentious or anything, but you have to dive in, and I think why not? It's an expression," he said. "And it's not like showing off or anything, but part of trying to engage an audience, and in this day of internet and YouTube and social networking and all that stuff, which I think in a way is becoming the new artistic movement, oddly enough, I still think for me it's still something that's engaging. A performance, something that captures people. No matter what. The Greeks were around doing it thousands of years ago."
The thirty-seven year old also spoke about what attracted him to Contraband and other movie roles he has taken on during the course of his successful career as a performer.  "I would say it definitely starts with the character and something that was like, "I can't do this, this is not me. I'm miscast. Are they serious?" So then I went in and I spoke to the director and they wanted me to audition, and I went in there and I said "No, I'm not going to audition for this. It's impossible. For somebody to do a good job… I mean, what do you want me to do? Do you want me to come in there and do an accent and yell and stuff like that and see what it's like? No. You have to trust me as I'm entrusting you and to really dive in and know that it's a process and there are several months away and I'm going to be working on it."
Watch Giovanni Ribisi, alongside Mark Wahlberg and Kate Beckinsale, in the Contraband trailer below.