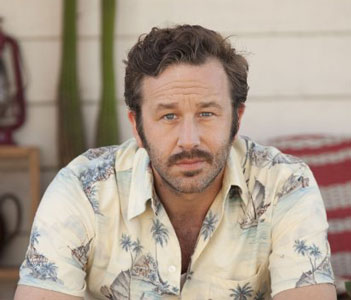 Chris O'Dowd first got the attention of moviegoers after starring in the runaway hit, Bridesmaids, as Kristen Wiig's love interest.  He's now starring in the Australian musical The Sapphires, which just premiered at the Toronto International Film Festival.
"After Bridesmaids came out, I was offered a lot of bad romantic comedies, and I was very conscious that I needed to do a lot of different projects so I wouldn't get pigeonholed," O'Dowd told Speakeasy.  "And I had never done an Aboriginal musical before."
The Irish actor is also starring in the Encore series The Crimson Petal and the White.  "It was something I hadn't really done before," he said.  "I trained as a dramatic actor and went to drama school, so this was the kind of thing I expected to be doing.  So it was a shock when I ended up doing more comedies.  For this adaptation, I was drawn in by the piece and I thought the script was so strong.  It's a sumptuous adaptation."
O'Dowd also has a half-hour comedy series for HBO in the pipeline.  Family Tree is directed by Christopher Guest (famous for movies like Waiting for Guffman and Best in Show.)  "He's a personal hero of mine and I heard that he was talking about creating a show," the actor said.  "So I was very eager to convince him that I was the one to star in it.  We met up and got along very well, and that was it.  There's no audition process because it's so much about improv."
The Sapphires is currently out in limited release, and Encore is currently airing new episodes of The Crimson Petal and the White.