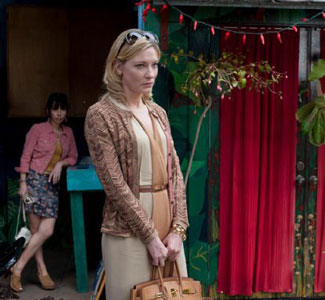 Cate Blanchett is already generating Oscar buzz for her role in Woody Allen's Blue Jasmine even though the film hasn't been released in most markets.  But that's pretty standard for Blanchett, who is generally praised in most films that she appears in (she's been nominated for five Oscars and won one for The Aviator).  She spoke to The Hollywood Reporter about her role in the film and why she's taken a slight step back from film in recent years.
Most actors would love to know the secret to Blanchett's ability to regularly pick roles in outstanding movies, but she insists the only secret is seek work that challenges you.  She explains, "The only criteria I've really had is: If I know how to do it at the beginning, then I think someone else should do it. You always want to think, 'This is an unsolvable problem,' because then you've got kind of a dangerous, dynamic relationship to the material. It's the adrenaline of risking screwing it up — which, from my perspective, I'm usually doing. For me, that's what keeps me going."
However, she has been even choosier about her film roles in the last few years to spend more time in her native Australia with her family and theater company.  She points out, "Now I've got three children, so your relationship to your work and the time that you've got to do it — it utterly changes. My work ethic has become more economical. The last five years I've been focusing on theater — running theater companies with my husband [writer Andrew Upton, whom she married in 1997]."
Blanchett praises Allen's filmmaking style, which as many actors have said in the past is not reliant on multiple takes.  She reveals, "97 percent of his direction is in the script.  You know that the script is not going to change. The architecture of it, you can trust. It's a life raft. Jasmine was certainly a challenging pace. Woody has a particular filmmaking rhythm, and you just have to be on.  I'm never satisfied.  I'd often say to him, 'Can we please just do one more so that I might [emotionally]break a bit more or break a bit less?' "
One challenge that the makeup department must have had was making the beautiful Blanchett appear rundown and haggard in scenes, though Blanchett (of course) confesses that she doesn't find herself classically beautiful like many actresses.  She says, "I didn't think I was that girl. I'm peculiar-looking, I think.  [Laughs] Well, my husband is happy. I think it's lucky as an actor that you can sometimes look decent-looking, and then you can also look strange and, dare I say, ugly. I think that's good as an actor."
C'mon Cate… you were only cast as the most beautiful woman in Middle-Earth!