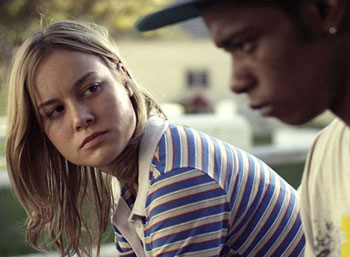 Brie Larson is an actress on a hot streak in Hollywood. The 23-year-old has grown from a child star on Raising Dad to an artist who is hitting the indie film scene hard.
She talked to the NY Times about weathering through the kid actor years without a scandal and how role models are a crucial part of the entertainment industry.
Larson shared with the periodical how she avoided the typical tabloid fare of many teen actors.
She said, "It's really, really easy to not be part of any of it. I've never been to a Hollywood party [where]there's been cocaine on the table. I've never even seen it. It's not like I'm avoiding anything. It's pretty obvious that's not good, that [it]doesn't help me in any way."
The Spectacular Now star spent three seasons on Showtime's United States of Tara. It was co-star Toni Collette who made a huge impression on Larson.
"Toni Collette [on "United States of Tara"]was a huge one for me, and has continued to be a shining example, not just [as]a brilliant actress and comedian but as someone who is very mysterious in her work and is not very public about her private life," she said.
Larson is now starring in the film Short Term 12 about a troubled counselor at a facility that houses foster care teens. The movie won the grand jury prize at South by Southwest in March, so it's created quite a bit of buzz in the film industry.
While filming the movie, it was her turn to pass along some of the life lessons that Collette taught her. She talked about on-set behavior with her younger co-stars.
She explained, "There's this idea that the actors are the most important thing in the movie, and that's not true. Also, make sure you pay attention to the people around you. Your DP [director of photography]is your bro. That person is up in your face. Why wouldn't you be kind to that person?"
With the career success she's experiencing, Larson also revealed that she still worries about living paycheck to paycheck. Sometimes, that starving actor mentality never leaves.
The 21 Jump Street star shared, "I still don't feel that way. My mom tried to have that conversation with me yesterday and I'm really working on it. Luckily, I don't need a lot of things. Give me gas in my car, dog food and 40 dollars for the farmers' market and I'm good."
Larson will next be seen in the Joseph Gordon-Levitt-directed film, Don Jon, which hits the big screen on Sept. 27.