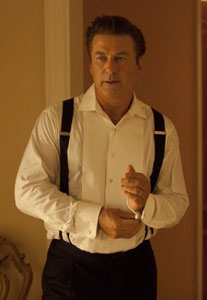 Coming on the heels of last week's announcement by Mary-Louise Parker that she wants to quit acting, Alec Baldwin has echoed those feelings.
"I'm 55 years old.  I don't give a shit!  I've worked all I want to work for the last 33 years.  Do I do things I want to do?  Sometimes," he said in an interview with The Independent.  "When you do this for 20, 25 years, you reach that point where you realize this is not the most important thing in your life.  If I work—great.  If I don't—I'll live."
Although Baldwin has built an impressive career in movies and television, he's quick to admit that he hasn't always enjoyed the process.  "I want my life to be less performing.  Sometimes the movies are interesting, sometimes the scenes are interesting," he explained, "but I've never had a good time making a movie!  Not one time in my life.  Never!"
The actor has also seemingly lost his drive to fight for interesting parts.  "I used to think, 'I want to be in that movie!  Why aren't I in that movie?'  Then I'd see the movie and I'd say, 'You put him in that movie!  You gotta be kidding me!  You chose him over me!'" he recalled.  "It used to drive me crazy.  Now I don't care."
Even if Baldwin is giving up acting, he does still offer his opinion on other performers, including his costar Cate Blanchett in the new Woody Allen film, Blue Jasmine.  Because he spent the last several years on 30 Rock, the actor said he "hadn't been around the dramatic actresses of that level for quite a while.  And Woody really put her through the machine, because she's so talented.  Take after take after take of very exhaustive, emotional scenes.  I sat there at the end of the day and thought, 'She is unbelievable.'
"Most contemporary actors want to seem sullen, virile, lean, and they just bore me beyond any measure.  The best acting typically in movies today is done by the women.  There are some men who I admire, but not many.  I love Colin Firth, I think he's great.  I like Clive Owen.  I love Leo [DiCaprio], when Leo gets to do a film that I think is worthy of him.  But the women are the ones I most have my eye on."
Blue Jasmine opens Friday, July 26.