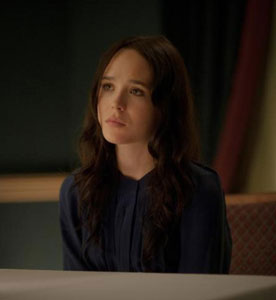 Despite reaching super fame after starring in the movie Juno, Ellen Page doesn't feel that people are hounding her to be in their films.
"No, no, I don't think so," she said about filmmakers clambering for her participation.  "You know, especially because careers go in ebbs and flows, absolutely."
Although she doesn't feel like a sought-after actress, she does acknowledge how lucky she's been.  "I feel super fortunate," she said in an interview with Huffington Post.  "I feel like every project I've gotten to do, I've been passionate about and I'm interested in.  And to be an actor, to work, firstly, is a gift—let alone to be able to choose what you want to do.  I feel very happy with the choices that are in front of me and the choices that I get to make."
Even if Page funnels some of the scripts she gets through her team, she confirmed, "People know what I'm interested in and what I'm not interested in.  I don't really want to play 'the girlfriend,' you know?  Unless the girlfriend is interesting, you know what I'm saying?  I'm also very specific about the young women that I want to portray, so that is important to me."
She does choose projects based on the story as well as the character.  "It always usually comes down to the script or the people or something I'm interested in exploring, or a different kind of filmmaking," she explained.  "[The East] specifically, I was a fan of The Sound of My Voice and what Zal [Batmanglij], the director] did with that.  Brit Marling's performance in that, as well as Another Earth, I just loved.  I was just like, 'Who the hell is this person?' I love that movie and her performance in it, I think, is just astounding, truly astounding…and to be honest, when you meet them and experience their energy and their passion, it's very infectious.  And I was trying to play it cool at the meeting."
Aside from Page's role in The East, the actress also got the opportunity to start shooting X-Men: Days of Future Past.  She last appeared in the franchise in 2006's X-Men: The Last Stand.
"I didn't expect to be playing Kitty Pryde again," she admitted.  "When you make the first one, you think, 'Oh, maybe.'  But then that much time going by, the last thing you expect—how old was I?  Eighteen?  I'm 26 now, that was a long time ago.  Yeah, I was 18.  And with Bryan [Singer], to be honest, I heard about it and then I went and met with him in LA and he told me about it and told me what was going on with Kitty—and [I] was totally excited to go back.  Especially with this new, insane cast.  I mean, it's psychotic.  Jennifer Lawrence is f–ing incredible.  James McAvoy, Michael Fassbender and everyone, I mean—awesome.  It's going to be cool.  I've been in Montreal shooting it and it's going to be cool."
The East opens in theaters Friday, May 31 and X-Men: Days of Future Past will be out summer of 2014.