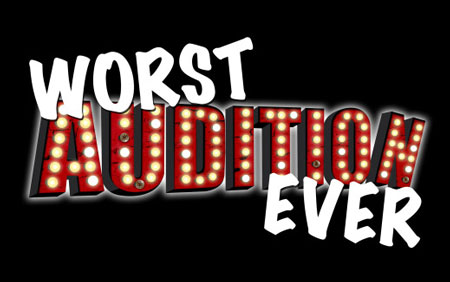 Actors aren't typically shy when recounting stories of their worst auditions.  So it shouldn't be a surprise — in fact, it's likely a stroke of genius — that actress Christine Lakin (who is probably best know for her role on the long-running ABC family sitcom Step By Step) created the show Worst Audition Ever. 
After three trial performances, on Tuesday, December 6, Lakin and other actors, including Danielle Fishel, Carrie Seim, and Will Seymour, took the stage in Los Angeles to recount their worst auditions to a receptive audience. 
Not only are the stories humorous, Lakin explains how the show is helpful to the audience as well as the actors.  "There's something that is mutually sort of painful about it, and I think people thrive on this sort of self-deprecation.  There's something really cathartic about people standing on stage and saying, 'I'm not perfect either, and let me tell you about the time when I was most imperfect.'"  Bob Guiney, the former Bachelor contestant who hosted the show, adds, "In this community that we all live in, there's a lot of auditions going on. There's a lot of horrible, horrible moments, and we figured just in time for the holidays, we're going to share it with everybody."  It's a great idea — there's probably no better gift that recounting your shortcomings all in the name of humor!
Worst Audition Ever is expected to hit the stage again in February.  Perhaps Lakin can grab some bigger stars to recount their humble beginnings, too.  For example, would Ryan Gosling mind retelling his "pantomime a war" audition story for a captivated audience?
Check out the Worst Audition Ever site for upcoming shows.
Via KABC-TV.